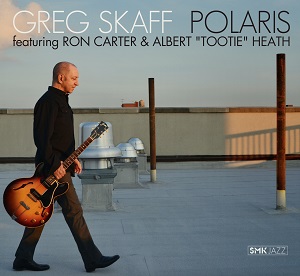 22 June 2021
For jazz fans, the first eye-opener of veteran guitarist Greg Skaff's seventh album Polaris is its rhythm section: legendary bassist Ron Carter, whose work with Miles Davis in the sixties helped define post bop jazz, and drummer Albert "Tootie" Heath, part of the musical Heath family (along with saxophonist Jimmy and bassist Percy), and an active recording artist since the fifties. (Amazingly, the last full album the rhythm pair made together was Bobby Timmons' In Person in 1961.) Once you get past what could, to less charitable eyes, be stunt casting, the music itself is what impresses the most.
Skaff isn't a flashy player; while he's quite accomplished, he'd rather use the right notes in the right places, rather than blaze away. (Unsurprisingly, his hero is Grant Green, a guitar great of similar mindset.) Backed by Carter and Heath, he can't help but swing on this smartly chosen set of originals and standards. "Old Devil Moon" kicks the record off with a sprightly rendition of the old classic, with the trio really settling into their chemistry on Duke Ellington's brilliantly melodic "Angelica." The jaunty walking blues of "Yesterdays," penned by songwriting great Jerome Kern alongside Otto Harbach, suits the threesome just as well, with Carter taking the lead on solos and all three players relaxing into the groove. "Lady of the Lavender Mist," another Ellington tune, practically wallows in its own luminous beauty, and Skaff follows it with another ballad – his self-penned title track.
Skaff also works with Carter in the latter's big band, and pays tribute to his sometime boss with the swinging "Mister R.C," as well as including the bassist's Timmons-era song "Little Waltz" in two versions, one duo and one trio.duo and trio. Skaff and Carter's chemistry is at the heart of the record, though Heath fits in like he's been playing with both men all his life. There's a real joy to these performances – you can easily imagine the musicians grinning the whole time the tapes rolled, and that makes Polaris a delight to hear.