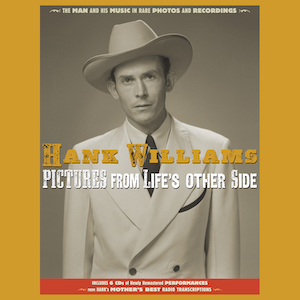 19 February 2020
A decade ago, fans of country giant Hank Williams rejoiced at the release of his 1951 radio shows for Mother's Best Flour Company. However, there was one very big problem with the massive 15-disc set, which compiled dozens of 15-minute episodes: Along with a slew of terrific Williams music, it contained serious amounts of filler, from band tracks without Hank to corny chitchat to Hank's folksy, tedious commercials for the sponsor.
Finally, these essential Williams performances have been presented the right way. The six-disc, 144-track Pictures from Life's Other Side – The Man and His Music in Rare Photos and Recordings is all Hank and nothing else, with only a little bit of chatter retained for color. Still electrifying almost 70 years later, Williams tackles downcast hits like "Cold Cold Heart," "I'm So Lonesome I Could Cry" and "I Can't Help It (If I'm Still in Love with You)," along with a host of lesser-known material, including his only known versions of many songs.
From the gospel gems "Lord Build Me a Cabin" and Thomas Dorsey's "Precious Lord Take My Hand" to "Blue Eyes Crying in the Rain," later popularized by Willie Nelson, and "I'll Sail My Ship Alone," a smash for piano-pounder Moon Mullican, Pictures from Life's Other Side captures the full range of his repertoire. Whether singing secular or sacred tunes, Williams was an effortlessly charismatic vocalist who seemed to be baring his soul to the listener, not putting on a calculated show. The only false notes here are a handful of duets with his spouse, Audrey, who lacked any discernable talent.
Pictures from Life's Other Side comes with a hefty, nearly 300-page book crammed with images, many previously unseen, of Hank alone, or with fans and fellow stars, both staged and candid. These photos add interesting context to his story, but the timeless sounds are the reason to get this great set.