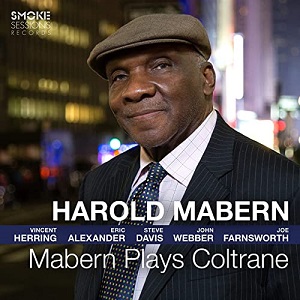 8 December 2021
Harold Mabern never became the household name he deserved to be. But the veteran pianist and educator commanded huge respect within the jazz community – check the liner notes on albums by Jackie McLean, Hank Mobley, Freddie Hubbard, Lee Morgan, Sarah Vaughan and many others for his important sideperson work. He also carved out a respectable career as a leader, recording from 1968 until his 2019 death.
Recorded in concert over three days at Smoke in New York in 2018, the posthumous Mabern Plays Coltrane is a hell of an epitaph. True to the title, Mabern takes on the catalog of iconic saxophonist and composer John Coltrane, backed by saxists Vincent Herring and Eric Alexander, trombonist Steve Davis, bassist John Webber and drummer Joe Farnsworth. Mabern casts a wide net across Coltrane's pre-free jazz career, from staples to deep cuts. Famous Coltrane barnburners "Blue Train" and "Impressions" get straightforward readings, with Mabern and Davis as MVPs. The pianist paints the saxophonist's "Naima" with his magic touch, in part by transforming the ballad into a quickstepping cha-cha. Mabern expertly invokes the blues on "Dahomey Dance," bebop on "Straight Street" and gospel on "Dear Lord." Possibly the most spectacular interpretation is the take on Coltrane's cover of Rodgers & Hammerstein's "My Favorite Things," on which Mabern puts such a personal stamp of a rearrangement he could claim the song as his as much as Coltrane could.
Though he certainly contributes some superb solos and riffs – few keyboardists make melody swing as hard as he does – Mabern's expert comping nearly steals the show, as it pushes the horn players to their most soulful expression. Mabern had four decades of teaching behind him, after all, and he knows how to bring out the best in those in his care. Displaying magnificence as both player and bandleader, he makes Mabern Plays Coltrane a powerful capper on a remarkable career.