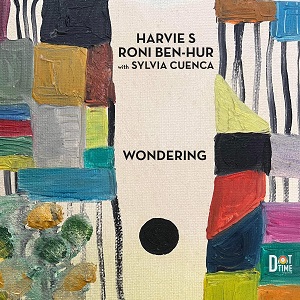 6 December 2022
Harvie S has long had a sympatico relationship to guitarists. Whether it's Mike Stern, John Scofield, John Abercrombie, Leni Stern, Margaret Slovak, or the late Mick Goodrick, the virtuoso bassist knows exactly how to be a good partner to an ace six-stringer. That connection continues on Wondering, the second record to headline S's partnership with guitarist Roni Ben-Hur. (Drummer Sylvia Cuenca gets co-headline credit as well.) The pair hit it off when working together as part of drummer Tim Horner's group, and their chemistry, both with each other and with Cuenca, is evident in this relaxed set of songs.
A devotee of jazz classicists like Kenny Burrell, Jim Hall, and Wes Montgomery, Ben-Hur keeps melody foremost in mind even when engaging in lyrical flights of fancy. S holds down the bottom with effortless swing, ready to step out with a euphonious solo of his own if and when required. With Cuenca joining the trio's telepathic communication, the band make songs from the catalogs of Antonio Carlos Jobim ("Ligia"), Herbie Nichols ("Some Wandering Bushmen*), Miles Davis and Gil Evans ("Boplicity") and Kenny Wheeler ("The Forks") their own. The duo really hits their stride on "For Duke P," Bobby Hutcherson's tribute to the perpetually underrated pianist and composer Duke Pearson, and also contributes a pair of their own tunes with S's swinging "Ray" (a tribute to bass great Ray Brown) and Ben-Hur's bopping "What Was."
Beautifully realized, while maintaining the sense of good pals hanging out and swapping tunes, Wondering is such an appealing, fun spin it makes you want to call up your own musician buddies to come over and have a jam.