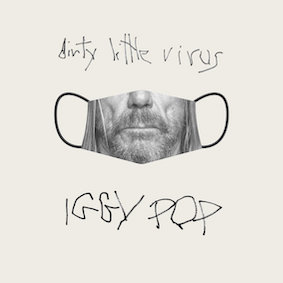 30 December 2020
Photo by Rob Baker Ashton
If anyone was wondering when the mention of the Covid-19 pandemic would make its way into music, the wait is over. Iggy Pop dropped a new single, "Dirty Little Virus", on 21 December. The track was co-written, edited, and arranged by Leron Thomas (who also played trumpet) and features Chris Berry on drums and Ari Teitel on guitars and bass. Iggy Pop has long eschewed nuance in the same way that he has eschewed wearing shirts, and with lyrics like, "Grandfather's dead / Got Trump instead", it is clear that he is back in fine form.
"I was moved to write a direct lyric," said Pop in an interview. "Not something too emotional or deep, more like journalism: who, what, when, where." Earlier generations had journalists such as Hunter S. Thompson and Norman Mailer and poets like Charles Bukowski to help them voice their anger at the frustrations of life. At the end of a year like 2020, Iggy Pop's cathartic wail of "Covid-19!" is the poetry we all needed to hear.
He recalls "No Fun" from The Stooges's debut album with lyrics like: "Can't have no fun / Can't touch no one," except this time he isn't talking about getting wasted and being alone. Now, the stakes are higher, the problem is bigger, and Pop's trademark direct manner is refreshing and necessary when tackling an issue like a global pandemic. For those who are more than ready to bury 2020, the Godfather of Punk is right there with them. And he just grabbed a golden shovel.
"Dirty Little Virus" is available now at https://iggypop.bandcamp.com/track/dirty-little-virus.