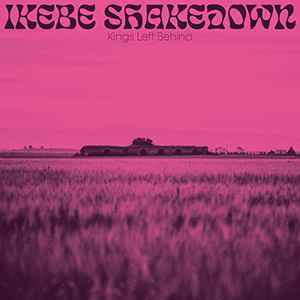 23 August 2019
After already a decade, Brooklyn, NY's unable-to-pin-down, funk-bent instrumental soul septet, Ikebe Shakedown, is back with its 4th full length, Kings Left Behind, on Colemine Records. Mining the abyss of the aforementioned soundscapes with an endless boogie of breakbeats, a sultry horn section, and crafty guitar work peppered with heady organ fills, pushing the boundaries is sort of an understatement. There's plenty of rock'n'roll and even acid jazz to ingest. Simply stated, the band knows no limits but that within itself.
Kings Left Behind wastes not a moment to jump in the fire. From opening offering "Not Another Drop" the palate is cleansed by way of a hard-driven percussive onslaught coupled with horns fit for royalty. The purpose here is feeling, a theme is being planted, subtle and entrancing yet highly movable. A bit like running into an old friend on a perfect day, you're already in a good groove but it just blew through the glass ceiling.
Ikebe Shakedown either lay back in a svelte groove like "The Witness" with its spacey horns and hollow-point guitar solos or it's four on the floor, head down and destroy, not in the disco sense, but harkening back to a steadfast Four Tops-esque, "Shake Me, Wake Me (When It's Over)", style trap slapping. The type which makes one feel invincible, ready to face the world or maybe even destroy it, at the very least, lacerate the dancefloor. What's left is a delectable nosh of overly satisfying organ, fuzzy guitar, and a meaty rhythm section served chilled over a delicious bed of tossed brass —audible comfort food for the mind, body, and greater good. Pick your poison as one compliments the other swimmingly, the album's sequencing is impeccably procured. Consider it a solid introduction to those unacquainted, ears and soul abound.
The record was tracked straight to tape by the band's low-end handler, Vince Chiarito, at Brooklyn's Hive Mind Recording owned by him and saxophonist Michael Buckley. The studio has become a 'honeycomb hideout' (for you 80's kids) for the band, allowing endless time for the band to build and work out new material when it's not booked as its popularity is high and rising. Just like their special brand of Instrumental Soul.