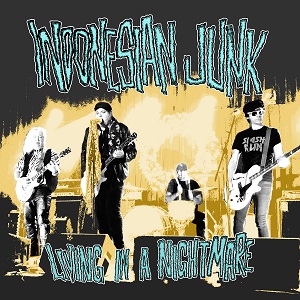 8 April 2021
Daniel James doesn't put on airs. The songs he writes and sings for Milwaukee rockers Indonesian Junk don't bother with clever asides, high concept gimmicks, tricky muso moves or conceptual obfuscation. The guy just calls it like he sees it, whether he's talking about someone's shitty behavior or his own broken heart.
Living in a Nightmare, the band's fourth studio album, uses the quartet's special blend of groovy punk & roll and gritty power pop to unleash James' emotional beast on songs about lousy politicians ("Livin' in the USA"), lousy would-be authority figures ("Policeman"), and lousy love (pretty much the rest). For someone who likes to come off as a tough guy – cf. his ragged, occasionally key-challenged growl – James has no compunction of letting his frustration ("Type of a Girl"), self-doubt ("You Won't See Me") and loneliness ("Bawlin' My Eyes Out") hog the spotlight. Surrounded by old-fashioned pop/punk hooks, the sentiments go down like honey, giving James just enough cover to keep from exposing too much of himself.
One of Midwestern rock & roll's hidden treasures, Indonesian Junk (and what about that "damn, I wish I'd thought of it first" band name?) just keeps getting better.