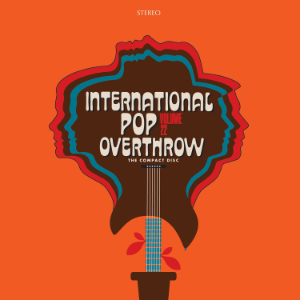 5 April 2020
I am not new to the music scene, but I must admit that before this year, I had never heard of International Pop Overthrow (or IPO). It is a pop music festival which has been hosted for the past 22 years in LA, and has also appeared in many other cities. This year, due to COVID-19, festivals have been cancelled or postponed during April and May. In addition to these festivals, this music collective has released a series of disks highlighting deserving artists from across the globe you've likely never heard of. The IPO compilation series goes back as far as 1998, when Volume 1 was a single disc. Over the years, it has expanded to three disks. This 69-song edition showcases artists from 10 different countries, doing just about every sub-genre of pop music, including power pop, pop/rock, folk/pop, psychedelic pop, garage, indie-rock, and so forth. More familiar names include Peter Holsapple, Bird Streets, Danny and the Doorknobs, and Kimberley Rew.
On Disk 1, highlights include the terrific "Sunshine After Rain" from Nick Frater. It has an instantly accessible sing-along chorus. "Heroine" from Danny and the Doorknobs is warm and familiar, especially if you followed Trotsky Icepick or any of the other bands that included these guys. Alaskan group Pikal offers lovely psych folk in "Balik Sa Trabaho", which immediately grabbed me. The contribution from Bird Streets (John Brodeur and Jason Falkner) is the poppy "The Rabbit", which would be a Top Ten hit in an alternate universe. Popdudes step it out with the 50ish, toe-tapping anthem "Dance With Me Tonight", reminding a bit of the vintage pop Dwight Twilley is known for. Wolf Circus channels a bit of Fountains of Wayne in their catchy ""I Will Answer", while Clover sends up the plaintive "Freelove" with a flourish. The minor chords make it more compelling. "Divine" from Harrison Clock is marvelous, 60s-drenched pop that is one of the strongest tracks on this disk. Definitely worth multiple listens!
Disk 2 starts off with "Dreaming (ft. Roger Joseph Manning Jr.)", a nice example of jangle pop from The Top Boost, with the requisite chiming guitars and sweet vocal turns. "She" from The Brothers Steve reminds a bit of the top shelf work from Paul Collins. Three Hour Tour (a *Jack Rabid fave!) present their cool, retro pop in the comely "Lonely Place". The banjo-driven "I Was In Love" by Jimmy Haber draws from late 60s British Invasion influences without being derivative. Nice work! The Occasional Orchestra sing "Cowboys", a really nifty orchestral pop piece with some gorgeous steel guitar haunting the sonic backdrop. We revisit the fellows from Danny and the Doorknobs with their Trotsky Icepick offering of "Clutch", a pretty and infectious pop tune. The Jeremy Band produce expansive power pop with huge hooks on "Joy Comes in the Morning", which sort of reminds me of "It's The End of the World" by REM.
Moving along to Disk 3, you can experience the flowery psych vibes of Carnaby Street on "Lord Cornelius Plum" from The Anderson Council. Really great! Danny Wilkerson produces a radio friendly pop staple with the engaging "Too Much of a Good Thing". The keyboards remind me of Supertramp! Ken Stringfellow helps out Scott Gagner on the pretty pop ditty "Bella" (Stringfellow also appears on the track "Amanda" from Joanne Hodges on Disk 1). magnaphonic features the dulcet tones of Marianne Galassini on "Daydream", a charming entry that is sure to please! Belgian artist Alain Pire Experience enchants with the driving pop of "Run Away", sounding very much like a prime slice of British psych pop, his specialty. I also dig the sweeping atmospheric pop of "For Anyone to Claim" from The Details. The Carvels NYC offer up a page from The Ramones school of rock with "Everything is a Travesty". The Penultimate sound a bit like Medway stalwarts The Dentists on the terrific "Yesterday's Girl Tomorrow". The disk's coda is the upbeat pop of "Saturday in the Sunshine" from The Last Hurrah. In summary, this is a neat collection deserving of your time and money. If you like any of these bands, seek them out through the usual avenues to help them keep making music like this.
Read more over at the International Pop Overthrow web site.