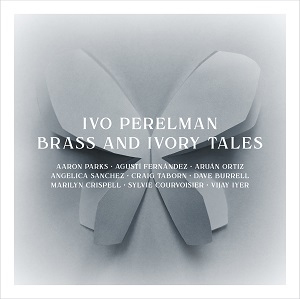 17 November 2021
Saxophonist Ivo Perelman has long had a special relationship with the piano. That's most obvious in his long-running duo with keyboard maverick Matthew Shipp, with whom Perelman recently released the CD/DVD set Procedural Language. Perelman expands on that concept with Brass and Ivory Tales, a nine-disk box set of improvisations with nine different pianists that took the saxist seven years to complete.
Disk one – or Tale One, in the album's jargon – features Perelman collaborating with Dave Burrell, a pianist with a long history of work with adventurous reedsfolk like David Murray, Archie Shepp, Albert Ayler and Marion Brown. Thus Perelman knows exactly how to respond to Burrell's dissonant jumbles and deep chords: playfully, swirling around and through his partner's note clusters with consummate skill and good humor. Tale Two finds Perelman joined by Marilyn Crispell, sounding perfectly in sync with her variance from chaotic wanderings to beauteous sonority. Cuban pianist Aruan Ortiz – who's shared an album with Perelman's pal Shipp – sits in for Tale Three, in which the two musicians share common ground on the appropriate use of space in spontaneous composition.
Tale Four brings in Aaron Parks, a wide-ranging pianist known for fusion, hard bop and a couple of albums on ECM. Parks' preternatural skill and penchant for melody, even in the wildest improv, makes him a natural foil for Perelman's flights of fancy. Tale Five finds Perelman sharing the mics with Sylvie Courvoisier, a New York improviser and classical musician of two-plus decades running, with names like Mary Halvorson, Erik Friedlander and Evan Parker on her CV. Obviously, nothing scares her, and indeed, her backgrounds range from structured support to rule-smashing counterpoint with ease. Veteran Spanish pianist Agustí Fernández stops by for Tale Six, and shows himself as happy to bash at the keyboard like it owes him money (including some imposing scrapes across its inner wires) as to caress it like a familiar lover.
A brilliant player who's made waves in both traditional and avant-garde settings, Craig Taborn antes up for Tale Seven. Unsurprisingly, given the adventurous pianist's miles-wide range, the disk has some of the most luminously beautiful tuneage alongside some of the most unhinged, with both musicians bursting through their own individual visions of John Coltrane's "sheets of sound." Tale Eight throws the spotlight to Arizona pianist Angelica Sanchez, a name not common in fan circles but connected to notables like Michael Formanek, Tony Malaby and Wadada Leo Smith. Sanchez and Perelman conjure up some of the set's most (relatively) reserved melodies, though the solos bring on the fireworks. The set wraps up on Tale Nine with the iconoclastic MacArthur Fellow Vijay Iyer, with whom Perelman creates duets that are casually playful, dreamily beautiful and full throttle, often all in the same tune.
Nine disks is a lot to ask of even the most ardent listeners, so every single one had better deliver. Thankfully, the musicians here all possess the skill, passion and individualism to turn in inspired performances, giving each tale its own character. As a leader and conceptualist, Perelman is dedicated to unfiltered self-expression, so even at its most uncompromising, Brass and Ivory Tales never feels anything less than honest and real. In an artificial world, that in itself is a triumph.