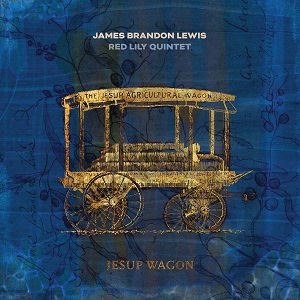 7 May 2021
As historians know, George Washington Carver (1864-1943) was a renaissance man. A scientist, musician, poet, educator, intellectual and early environmentalist, Carver touched on nearly every aspect of American accomplishment – so much so that Time once called him "the Black Leonardo." His work and talent – from developing new agricultural techniques to original compositions and important writings advancing Black equality – were such that his fame and respect extended beyond the African-American community, and even in these racially charged times he's recognized as not just a pioneering Black and bisexual American, but a pioneering American, period.
James Brandon Lewis grew up a student of Carver's work and history. As such, the fast-rising New York saxophonist took his prenatural skills and his knowledge and created Jesup Wagon, a tribute to Carver. Aided by an all-star cast – bassist William Parker, drummer Chad Taylor, cornetist Kirk Knuffle (Butch Morris) and cellist Chris Hoffman (Henry Threadgill, Morris), Lewis presents his ideas as a jazz suite, incorporating ideas from across the jazz spectrum to convey the power of Carver's ideas.
The opening title track puts a bluesy melody atop a New Orleans second line rhythm, connecting the dots between the development of early jazz and the way Carver took his mobile laboratory – named after its funder, Morris K. Jesup – to poor Southern farmers to advance his ideas on better ways to work the land. "Experiment Station" touches on more avant-garde territory, with Hoffman, Knuffle and the bandleader trading lines that seem to ignore standard meter and harmony in their quest to emulate Carver's trailblazing work in the titular section of the Tuskegee Institute's agricultural department. "Seer," by contrast, fields a (slightly) more conventional melody, with the horns harmonizing over Parker's strict bass groove, emphasizing Carver's dignity and truth. "Fallen Flowers," an acknowledgement of the pain Carver felt whenever he had to destroy one of his plants in order to study it, moves from mournful balladry to jittery dance music to painterly free jazz, with the cello and cornet weaving around the rhythm and a recording of Carver reciting some of his own poetry.
The record ends with "Chemurgy," an ambitious piece whose melodic attack and rhythmic elasticity pay as much tribute to jazz pioneer Ornette Coleman as to Carver. Lewis masterfully bends Coleman's harmelodic approach to the purpose of illuminating chemurgy, Carver's idea that industrial uses can be found for organic materials. (As a movement, chemurgy died with Carver, though its ideas live on.) Like "Fallen Flowers," the piece ends with Carver's voice reading some of his verse: "A seed never ran a race of its choosing/Before and after its displacement across miles of blues/It still blossoms." Even without his considerable accomplishments across the American landscape, that verse alone would be enough to inspire an album as good as Jesup Wagon.