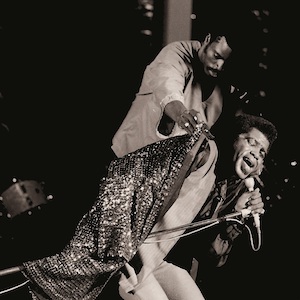 25 November 2019
What is funk? Definitions vary, but there's no doubting that its number-one practitioner was James Brown aka The Hardest Working Man in Show Business aka The Godfather of Soul. He had the groove, the attitude and the musicians.
Exhibit A is Live at Home with His Bad Self, presenting a 1969 concert from Brown's hometown of Augusta, Ga. in its entirety for the first time. While pieces of this sizzling show have been parceled out on a variety of archival releases over the years, the uncut performance makes a compelling argument for the man's greatness.
Brown's touring band in 1969 was relentless and razor-sharp, with sax genius Maceo Parker and killer drummers Melvin Parker, Jabo Starks and Clyde Stubblefield leading the attack. However brilliant, Live at Home also illustrates the downside of completeness: The mellower first part of the evening keeps the players under wraps, as Brown mixes stage patter, ballads and easy-listening jams in preparation for the floor-shaking sounds to follow.
For a shot of pure adrenaline, impatient listeners can jump to the second section of the proceedings, starting with the chunky empowerment anthem "I Don't Want Nobody to Give Me Nothing (Open Up the Door I'll Get It Myself)." From there, Brown and company ratchet up the excitement on one smoking song after another, including the sweat-soaked "There Was a Time," a wild-eyed take on "Please, Please, Please" that bears little resemblance to the original and a shrieking "It's a Man's, Man's, Man's World."
Live at Home concludes with an explosive, nine-minute version of "Mother Popcorn," which finds Brown in a furious, ecstatic trance, on the verge of ascending to a higher state. Have mercy!