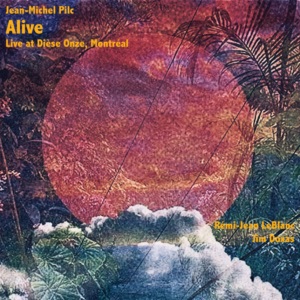 22 March 2022
Veteran pianist Jean-Michel Pilc regularly takes the stage with no setlist or plan and delivers a captivating set of jazz improvisation, and Alive: Live at Diése Onzé, Montréal is no exception. That doesn't mean he, bassist Rémi-Jean LeBlanc and drummer Jim Doxas make it all up as they go along – all five tunes here are pre-composed pieces. But Pilc knows his own skills and those of his bandmates well enough to simply call a tune, let the reins fall to the floor, and trust good things are going to happen. Thus he can start with the somewhat hoary Oscar Hammerstein II*/*Sigmund Romberg chestnut "Softy, As in a Morning Sunrise" and know it's not going to get the lounge ax.
And indeed it doesn't, moving through a bluesy stroll into a wild post-bop strut. The trio gets even rowdier on Pilc's original "11 Sharp," which nudges toward free jazz but instinctively keeps itself within its own boundaries. The threesome then segue without warning into a pair of Miles Davis tunes, starting lyrically on "Nardis" before revving up into freneticism. That carries over perfectly into a supercharged "All Blues," which, while sporting a brief near-ambient respite, starts at balls-out and stays there, drawing excited cheers from the crowd. Pilc and company flip that script for the leader's closer "Alive," cooling the temperature with melodic exploration and a deliberate pace, only pushing the energy level up occasionally. It's a fitting way to let the audience appreciate what they just experienced, like a cool down after an intense yoga session.
As it happens, this CD covers only the first half of the show – set 2 is available only digitally. But any more music would simply be a bonus – Alive is itself a perfectly fulfilling hour of masterfully performed jazz.