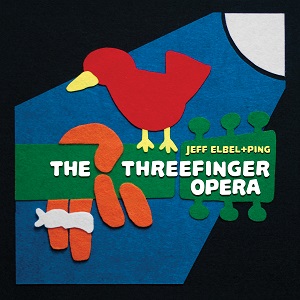 24 November 2021
Longtime readers of this magazine/website will recognize the name Jeff Elbel, as he has written his fair share of pieces for The Big Takeover. But he's also an accomplished singer/songwriter, as evidenced by his eighth album The Threefinger Opera. While falling generally into the realm of melodic power pop on this LP, in truth Elbel and his free-floating ensemble Ping draw on any tradition in which tight songcraft matters, and their seemingly effortless mastery of those traditions attracts a ton of special guests to have a play.
Sounding like a power popper hiring Chic to back him up, Elbel gets his groove on with the ultra-catchy "Like Lightning," featuring Dropsonic's Dan Dixon on lead guitar. "Mr. Madarakkis" keeps the rhythm hittin' 'em, but lays on more acoustic guitars, organ from Nashville songwriter, producer and session ace Phil Madeira and a sizzling axe solo from Resurrection Band's Glenn Kaiser. Derri Daughtery of the Choir (the alternative rock band, not the garage rock legends) stops by to add his typically soulful singing to the straightforward guitar pop of "Waiting Room." The whimsical "Rhyming Dictionary" garnishes its hooky zaniness with the contrasting guitar styles of Love Coma's Mitchell Connell and Adam Again's Greg Lawless, plus a guest lecture from Coma's Chris Taylor. The old-school rock & roller "Lazy Louie" comes almost overloaded with guests, with guitarist Michael Roe of the 77's, trumpeter Martin Wenk of Calexico and pianist Johnny Iguana from Oh My God and the Claudettes. The Fixx's Cy Curnin adds an intro and outro in the style of those long-gone children's storybooks that came with a 45 rpm record.
But the names, big or small, tell only part of the story. In truth, some songs prove that high profiles aren't needed – cf. the cheeky ELO-styled pop of "Unstoppable Me" or the warm folk pop of "I'm Gonna Be Like That." Elbel also takes a quick dip into a friend's catalog by covering "In Your Hands," a minor-key folk rocker from the catalog of the late Dead Artist Syndrome leader Brian Healy. The song's the thing, you see, and the personnel behind it are those who best bring something to it musically, not with name recognition. Elbel could've recorded The Threefinger Opera with his local bar band, and it would still be a smart, melodic and brilliant piece of work.