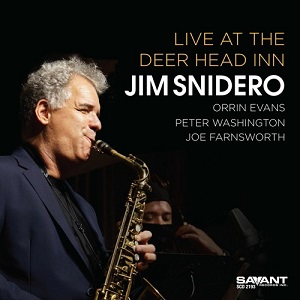 29 March 2021
There are so many creative, adventurous jazz musicians out there that it's arguably the musical genre that's most always developing and expanding. As cool as all that is, and as much amazing music as is produced, sometimes you just want something old school – and that's what alto saxophonist Jim Snidero delivers on Live at the Deer Head Inn.
Joined by his regular working band of Joe Farnsworth (drums), Peter Washington (bass) and Orrin Evans (piano, also of the Bad Plus), Snidero sets the clock for "bebop" and a program of familiar standards. The quartet's take on "Bye Bye Blackbird" and "Who Can I Turn To" are good examples of what Snidero aims for here: an easy attack, superb solos from Evans and the leader, and performances that swing like mad. The group also brings some serious soul to ballads "Autumn Leaves" and a version of "Ol' Man River" dedicated to the Black Lives Matter movement, and really steps it up a notch on Grant Green's classic "Idle Moments."
The record ends with the Jerome Kern nugget "Yesterdays," blazed through at an unusually fast clip, but one that lets every player shine. Nothing innovative here, but that's not what Snidero is going for. Live at the Deer Head Inn may be the jazz equivalent of comfort food, but there's nothing wrong with that, especially when it's this tasty.