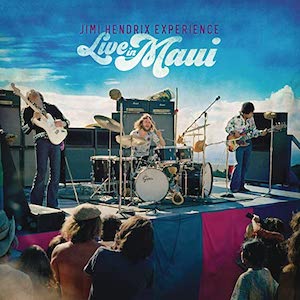 21 December 2020
Jimi Hendrix, arguably the greatest rock guitarist ever, was also sadly short on savvy when it came to business matters, making commitments that only complicated his life. Still, the byproduct of these missteps was sometimes noteworthy music, despite its dodgy origins.
Live in Maui, capturing a pair of shows from July 30, 1970 – less than two months before Hendrix's death – mixes early favorites like "Purple Haze" and "Red House" with newer material such as "Freedom" and "Straight Ahead," which indicated he was heading a less-theatrical, more socially conscious direction. Ably abetted by Mitch Mitchell (drums) and Billy Cox (bass), Hendrix was fiery and focused, unspooling blistering solos that never feel formulaic, no matter how familiar the songs.
This two-CD set also comes with a Blu-ray containing the feature-length documentary Music, Money, Madness: Jimi Hendrix: Live in Maui, detailing how he was roped into playing the concerts as part of the ill-fated Rainbow Bridge movie project. Essentially, it also includes all of the surviving 16 mm color footage of Hendrix's performances.
Credited to Curtis Knight & the Squires, No Business: The PPX Sessions Volume 2 compiles some of Jimi's studio sessions as a sideman for journeyman singer Curtis Knight, both in 1965, before he became a star, and in 1967, after the Experience took off. Having unknowingly signed a contract with Knight's producer, the guitarist was subsequently dismayed to see these recordings released under his own name. While the music and the sound quality are often mediocre, No Business offers intriguing obscurities, including Hendrix's first known compositions. It's extra-credit listening for sure, but worth a spin for hardcore fans.