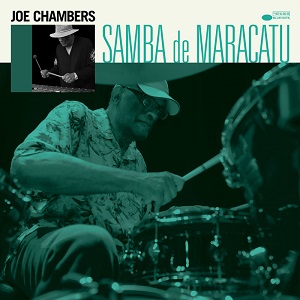 26 February 2021
The career of drummer Joe Chambers stretches back to the early sixties, when his rhythm work was a staple of many a Blue Note LP. He logged time with Bobby Hutcherson, Wayne Shorter, Freddie Hubbard, Andrew Hill, Donald Byrd and more, plus gigged with Hugh Masekala, among others. Though it was his kit and vibraphone work that paid the bills, the seventy-eight-year-old Virginia native is also a conservatory-trained composer, though it took him a while to make records under his own name. Samba de Maracatu is only his thirteenth album as a leader in the nearly fifty years since his 1974 debut The Almoravid, and his first for Blue Note since 1998.
With a name like Samba de Maracatu (a reference to the syncretic music originating from the Pernambuco providence), one might expect an album heavily influenced by Brazilian music. And while that's a fair statement, anyone expecting a bossa nova record might be disappointed. Chambers and his cohorts Steve Haines (bass) and Brad Merritt (keyboards) take the swaying rhythms of that country and weave them into hard and post bop compositions, whether classic or Chambers' own work. Karl Ratzer's "Sabah el Nur" swings hardily with just a tinge of Latin groove, powered by Merritt's piano chording and Chambers' lusty vibraphone. Chambers hits up the catalogs of his peers for distinctive takes on Horace Silver's "Ecaroh," intro'd by some lush vibes, Wayne Shorter's "Rio," given an almost freeform reading over bossa nova sway, and the luminous "Visions*, from the catalog of Chambers' old pal Bobby Hutcherson. In the standards arena, the trio gives the Broadway hit "You and the Night and the Music" a pulsing makeover, while the Jay Livingston/Jay Evans piece "Never Let Me Go" serves up sugar and spice with guest vocalist Stephanie Jordan.
Chambers also brings two eras and traditions together with "New York State of Mind Rain," a mash-up of rapper Nas' "New York State of Mind" and his own "Mind Rain," which was sampled by Nas on his hit. With guest vocals by MC Parrain, Chambers updates both tunes for the twenty-first century without doing anything so obvious as a rap/bop mashup. The title track is possibly the finest track on the record, showcasing the leader's melodic writing and the band's magnificent chemistry. No nostalgia trip, Samba de Maracatu brings Chambers back home without being a retro exercise in any way.