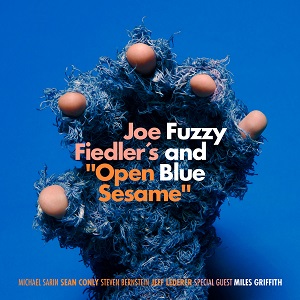 10 November 2021
Though he has a remarkable CV as a sideman with several jazz luminaries, not to mention an association with both the stage and film versions of In the Heights, trombonist Joe Fielder has an equally impressive day job as music director and staff arranger for Sesame Street since 2009. Impressed by the depth and volume of the program's fifty-year-plus catalog, particularly the compositions of mainstays Jeffrey Moss and the late Joe Rasposo, Fielder rounded up friends Steven Bernstein (trumpet and leader of Sex Mob), saxophonist Jeff Lederer, bassist Sean Conly and drummer Michael Sarin to form Open Sesame, a group dedicated to jazz interpretations of Sesame Street songs.
Fuzzy and Blue is the group's second album, so you won't hear the biggies ("Theme From Sesame Street," "Rubber Duckie," "People in Your Neighborhood," "Doin' the Pigeon"), as they were covered on the eponymous first record. Fear not, however, as you won't notice their absence. The frisky "Bip Bippadotta Suite," which combines "Everybody's Song," Fat Cat" and the notorious "Mah-Na Mah-Na," a Latinized "One of These Things," an appropriately bluesy version of "I Am Blue," and a nifty take on "Elmo's Song" that successfully blends pre-bebop polyharmony with free jazz skronk are just a few of the many highlights included here. For vocal lovers, singer Miles Griffith makes enthusiastic appearances on a bossa nova medley of "I Love Trash" and "C is For Cookie" and the Rev. William Holmes Borders' "I Am Somebody," originally recited by the Rev. Jesse Jackson on the show in 1972 and set to music by Fielder here.
One certified monster classic is included on Fuzzy and Blue is a soulful "Bein' Green," a song that fairly represents Fielder's vision: respectful, but not reverent, willing to stretch the material into new and interesting shapes without devolving into parody. That makes Fuzzy and Blue appealing to fans of jazz and children's music alike, without compromising either approach.