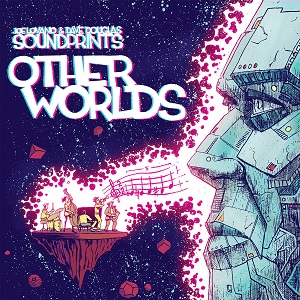 18 May 2021
Saxophonist Joe Lovano and trumpeter Dave Douglas are both two of modern jazz' most acclaimed and creative bandleaders, throwing their long arms around a wide variety of stylistic permutations and bending them to their wills. Thus Other Worlds, the duo's third record together with their Sound Prints project, finds them in typically eclectic form.
Just to put that notion into practice, the duo swings the pendulum wildly at the album's head. Lovano's "Space Exploration" lives up to its name with ten minutes of wandering free jazz, the musicians literally probing any zones in the composition in which notes can dwell. After a brief drum intro called "Shooting Stars," the set then swings into Douglas' "Life On Earth," a hard bopper with a subtle Latin feel that could have come from Blue Note's sixties glory years. Other tunes follow the pattern: Lovano's freer "Sky Miles" precedes Douglas' more structured "Pythagoras," for example. "The Flight," penned by Lovano and related to "Space Exploration," finds a midpoint between those two approaches, with tight rhythms over which the saxist and trumpeter trade roving lines that move in and out at will. Elsewhere, "Manitou" and "The Transcendentalists," both written by Douglas, invoke the spirit of classic bebop balladry. Lovano's groovy "Midnight March" closes out the record with a New Orleans second-line vibe.
As on the other Sound Prints albums (2015's Live at Monterey Jazz Festival and 2018's Scandal), the horn men are joined by pianist Lawrence Fields, bassist Linda Oh and near-legendary drummer Joey Baron, all of whom have their own mightily varied projects under their belts. Each track gives both leaders (and their sidepeople) plenty of chances to let them do what they do best on their instruments. Thus we get a portrait of two brilliant bandleaders at work, bouncing ideas off each other and giving master classes in improvisation with every solo. With such a great band behind them (and a great cover from jazz musicians/comics artists Dave Chisholm around them), Lovano and Douglas can't help but shine brightly.