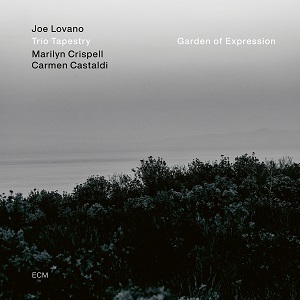 28 January 2021
Jazz saxophone great Joe Lovano has been a major figure in the modern hard bop and post-bop worlds for decades. A couple of years ago, however, he took a musical turn with Trio Tapestry. Working with pianist Marilyn Crispell and drummer Carmen Castaldi, the horn man explored new, more atmospheric territory, with an emphasis on making interiority exterior. It was a new standout in his long career, and deserved a sequel, which appears now as Garden of Expression.
Drifting atop Castaldi's cascading rhythms, cuts like "West of the Moon" and "Night Creatures" plumb the depths of inner contemplation in order to drag its treasures into the light. Crispell's contemplative keyboard work paints an elegant backdrop for Lovano's probing sax work, with the piano asking deep questions that the horn, after a moment's thought, deftly answers. The luscious "The Sacred Chant" hints at spiritual concerns, while "Treasured Moments" – so sparse it's almost austere – gently pushes for appreciation of life's simple things. The rippling "Dream on That" and the wandering "Zen Like" cruise free form waters, though they never go for abrasion or dissonance – instead the musicians allow themselves to be pulled along by the current, floating around obstructions and trailing their notes behind them.
Appropriately, the title track pulls all of Lovano's ideas together, with all of the instrumentalists at their best, and the leader's plush tone evoking beauty as both ideal and experience. Which isn't a bad way to describe Trio Tapestry's vision, one that's fully realized on Garden of Expression.