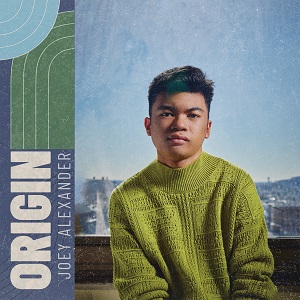 23 June 2022
A mere eighteen years old, pianist Joey Alexander already has five albums, three Grammy nominations and performances for two presidents on his resumé. Origin earns a special place in his discography, however. The Bali-born New York City resident's sixth LP and first for Mack Avenue is also his first record to feature all original compositions, interpreted here alongside his regular sidepeople Kendrick Scott (drums) and Larry Grenadier (bass), as well as guests Chris Potter on saxophone and Gilad Hekselmen on guitar.
Having nearly half a dozen albums under his belt means that the young Alexander has had plenty of time to show off his prodigious chops, so he instead elects to begin Origin by demonstrating a talent for melody and arrangement. "Remembering" puts the tune in the hands of the chord changes, rather than fancy fingerings, and lets Scott and Grenadier keep the rhythm flowing beneath. The same goes for "Winter Blues," the gently swinging "Hesitation" and the gorgeous waltz "Promise of Spring" – Alexander sets up the tune, puts down a solid, often exceptionally tuneful foundation, the rhythm section keeps it moving, and he lets his pals take the spotlight. That doesn't mean he just sits back when it's time to solo – check out his electric piano noodles on "Winter Blues" or his rippling runs on "Summer Rising." But he seems mostly content to let Potter, Hekelsman and Scott pull focus, as he just keeps things musical.
Alexander isn't just a melody maven, though – he throws in some clever bits as well. Though lovely, with Potter contributing some sweet soprano work, "On the Horizon" ends on an unresolved progression – appropriately enough, since the most common answer to the question "What's the future gonna be?" is "Hell if I know." He also abandons arrangement for a pair of spontaneous compositions, the particularly euphonic "Angel Eyes" (which you'd swear wasn't made up on the spot) and the far more freeform "Rise Up," though even it still works in plenty of concordance.
As a bandleader, Alexander is exceptionally generous, happier to spotlight his bandmates than himself. That means, as a musician, he's already savvy and mature enough to understand that sometimes the best way to showcase one's compositional skills is to let others have their way with your tunes, with full support – an approach that works quite well on Origin.