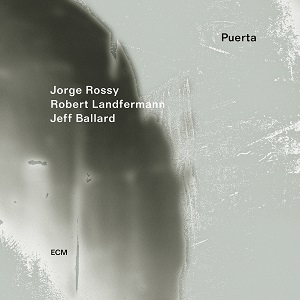 3 November 2021
Jorge Rossy is best known as a drummer, particularly for his work with Kurt Rosenwinkel, Mark Turner and the first version of the Brad Mehldau Trio, and more recently with guitarist Jakob Bro. For his leader albums, of which Puerta is the third, the Spaniard turns to the melodic instruments that most easily transition from his percussive background: vibraphone and marimba. Unlike a lot of vibists, who tend to fill the air with showers of notes malleted at high speeds, Rossy prefers a less frenetic approach.
Playing his instruments in much the same way B.B. King played the guitar, he hits only the right notes at the right time, which gives the arrangements an airy, open feel. It also lets his bandmates, bassist Robert Landermann and drummer Jeff Ballard, have plenty of space to fill, which allows the former to add his own frisky solos alongside Rossy's, and for the latter to add color via his cymbals and clattering accents. Attuned to each other's thinking, the trio acts almost as one voice, whether it's with the bossa nova of "Adíos," the balladry of "Cargols" (composed by sometime Rossy bandmate Chris Cheek), or the swing of "Maybe Tuesday."
Rossy's writing and the band's musicianship meld in near perfection on the late-album cuts "Ventana" and "S.T.," both of which boast elements of blues, swing and film noir soundtrack music without sliding easily under any banner. And that's what sets Rossy apart: in a jazz firmament in which vibes are represented by such head-turners as Bobby Hutcherson, Lionel Hampton and Stefon Harris, Rossy confidently, almost casually, defines his own section of the jazz vibraphone universe.