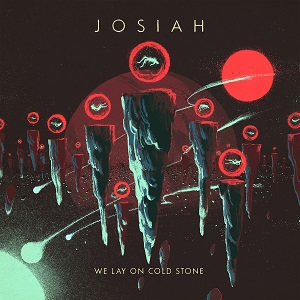 11 July 2022
British power trio Josiah was a reliable stoner/hard rock force in the early 2000s without ever really hitting stardom, even in that world. The band's four albums delivered the 70s-inspired, guitar-fueled heavy rock thrills fans of the style want, but somehow the group never really shifted from "band you're happy to have in your record collection" to "band whose records you have to get the day they were released." Maybe that's why they split in 2009, with singer/guitarist Mat Bethancourt going on to form the short-lived Cherry Coke and indulging in his psychedelic side project The Kings of Frog Island.
So it was a bit of a surprise to discover the band had reconvened for a belated fifth LP. We Lay On Cold Stone picks up pretty much where they left off, playing acid-tinged, pre-punk hard rock as if the Clash never happened, let alone new wave or emo. The riff-mongering "Saltwater" leans into aggressive confidence without ever quite devolving into macho bluster, while "(Realise) We Are Not Real" and "The Bitter End" get trippy (as might be surmised from the title) without stinting on the muscle. And while Bethancourt may have a solid voice for this noise, the best tunes here – "Rat (To the Bitter End)" and "Cut Them Free" – find him keeping his mouth shut and letting his guitar do the talking.
There's nothing tentative here, nothing that indicates Bethancourt was unsure if the old firm could still fly. So don't call We Lay On Cold Stone a comeback album, when it's really just the latest chapter in a book that was misplaced for a bit, still open to the next page, ready for action when the time comes.