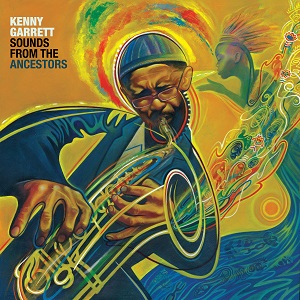 6 September 2021
When alto sax-wielding jazz warrior Kenny Garrett (Miles Davis, Art Blakey & the Jazz Messengers, the Duke Ellington Orchestra, and many more, including a ton of solo albums) decides to get spiritual, he reaches way back. Not just to the gospel sounds of the Detroit church in which he came up, but to the spirit of his African ancestors. Hence Sounds of the Ancestors, a heartfelt album that draws from a wide range of approaches, all drawn from deep wells.
Drummer Ronald Bruner and percussionist Rudy Bird conjure a roiling stew on "For Art's Sake," letting pianist Vernell Brown, Jr. and bassist Corcoran Holt push the rubbery groove forward and the leader lay down lines that soothe and squeal. "Hargrove" pays tribute to late trumpeter Roy with a tune that's somewhere between hard bop and fusion, a space in which Garrett's bluesy tone sits more than comfortably. The saxist dives into post-bop waters with "What Was That" and fires up some Coltranesque riffery on the epic, polyrhythmic "Soldiers of the Fields/Soldats des Champs," pulling from deep inside himself with weaving, fiery solos. The title track brings the concept to life with African percussion and vocals interweaving with gospel shouts, the tight control of the band, and Garrett's call-and-response with the vocalists.
Appropriately, "It's Time to Come Home" both begins and ends the record, with Garrett's melodic alto riding an insistent Afro-Cuban groove. Even if Africa or Detroit don't mean home to you, this song pulls you – and Sounds of the Ancestors – into that headspace where you'll find it, no matter where, or what, it is.