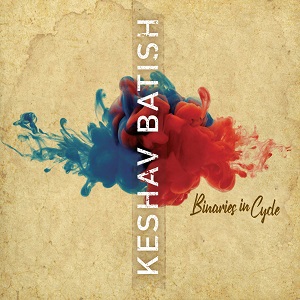 9 July 2021
The son of a master sitar player and grandson of a Bollywood composer, drummer Keshav Batish brings worlds of experience to his music. But he's subtle about it, never going for anything as overt as a Bollywood/raga/jazz fusion on his debut album Binaries in Cycle.
Batish and his crew – saxophonist Shay Salhov, pianist Lucas Hahn and bassist Aron Caceres – kick off the album with the title track. The dynamic epic moves through cycles of aggression and meditation, acting as a statement of purpose for the album's vision. The influence of rāgs comes in more intricately with "Let Go" and "Count Me In," which translate the harmonies of Indian classical music to jazz changes on brilliantly crafted cuts. The band keeps those cylinders firing on the melodious "Wingspan," another extended piece that shows Batish and company's mastery of hard bop, while Batish leads everyone into a post bop transliteration of a mantra with the shapeshifting, beguiling "Gāyatri." Batish rounds out the record with takes on Ornette Coleman (the obscure "Police People") and Thelonius Monk ( the sprightly "We See") that directly connects his aesthetic to outsider jazz tradition.
Batish also plays sitar and tabla, neither of which are represented here, alas. But that doesn't keep Binaries in Cycle from being an excellent recording that swings hard enough for the trad jazzers, but contains melodic intrigue for those looking beyond the borders.