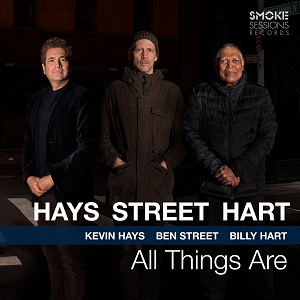 4 June 2021
Recorded live and crowdless at the Smoke Jazz Club in New York to celebrate veteran drummer Billy Hart's eightieth birthday, All Things Are is an old-fashioned piano trio record made by old friends. Bassist Ben Street has been Hart's rhythm partner in the latter's eponymous quartet for fifteen years, and pianist Kevin Hays – whose .cv includes names like Sonny Rollins, Joshua Redman, John Scofield, Chris Potter and more – first shared musical space with Hart in the late eighties.
The trio takes on a program of three Hays originals and three "contrafacts" of well-known standards. The latter means rearrangements and extrapolations on "Scrapple From the Apple" (as "Unscrappulous"), "Stella By Starlight" (as "Twilight") and "All the Things You Are" (the hard-swinging title track) – all reminiscent of the originals, but not close enough to truly be covers. (There's long been precedent for this approach in jazz – after all, Charlie Parker's "Moose the Mooche" and Duke Ellington's "Cotton Tail" are both based on "I Got Rhythm," and Miles Davis' "So What" and John Coltrane's "Impressions" use the chord structure of Morton Gould's "Pavanne.") Besides, considering this threesome's incomparable improvisational chops, any tune becomes a new tune in their hands. Hays' incredible piano chops and melodic sense and Hart and Street's telepathic bond allows the musicians to turn on a dime, without ever letting the seams show.
The band's performances shine just as bright on Hays' wholly original tunes – check out the gorgeous "Elegia," the brooding "Sweet Caroline" (not that one) and the thrilling opener "New Day." The standard "For Heaven's Sake," which has long been a part of Hays' repertoire, also gets a lovely reading. The record may have been intended to celebrate its legendary timekeeper's birthday, but it sounds instead like the inauguration of jazz's latest great new band.