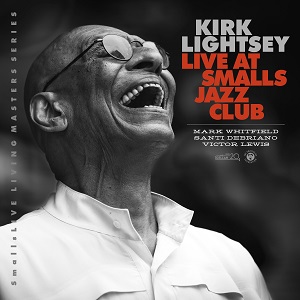 15 December 2022
Never a household name like his peers McCoy Tyner, Bill Evans or Dave Brubeck, pianist Kirk Lightsey has been more like Mal Waldron or Stanley Cowell – a brilliant and highly respected musician with an enviable catalog, but better known for his work as an accompanist (with Ricky Ford, Harold Land and Blue Mitchell, and, for a consistent stint in the sixties, Chet Baker) than as a leader. Ironically, the 85-year-old takes advantage of that conception on Live at Smalls Jazz Club.
Recorded on the night he was inducted into the iconic club's Living Masters Series and featuring guitarist Mark Whitfield, drummer Victor Lewis and Lightsey's longtime rhythm partner, bassist Santi DeBriano, the album often finds the pianist relying on his support skills. For Brubeck's "In Your Own Sweet Way" and Tony Williams' "Pee Wee," Lightsey seems content to let Whitfield stand in the frontline, and Lewis and DeBriano take frequent solos throughout. But that doesn't mean Lightsey isn't leading – indeed, his harmonic sophistication and distinctive chord voices take responsibility for the shape and feel of each tune, with his bandmates following his standard whether they're in the spotlight or not.
Not that he consistently keeps himself in his pals' shadows – witness his beautifully melodic solos on J.J. Johnson's "Lament" and Eddie Harris' "Freedom Jazz Dance," or his gorgeous, unaccompanied intro to "Pee Wee." Though it's the shortest cut, Lightsey's own, Latin-flavored composition "Heaven Dance" proves itself equal to the standards featured on the rest of the disk, and inclues some marvelous keyboard work from its composer. Lightsey and company close the album with a delightful run through Tyner's "Blues On the Corner," showcasing everybody in the band at their best – a perfect way to close out this reminder that legends still walk among us.