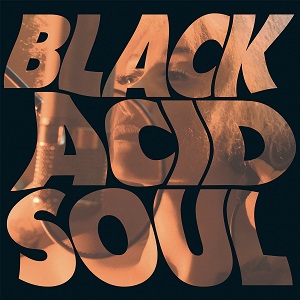 15 September 2021
The smoke, the glitter, the creeping misery, the fierce joy – it all comes together on Black Acid Soul, the debut LP from Lady Blackbird. Formerly trading under the name Marley Munroe, the L.A.-based singer took a circuitous route through the music industry, from the Nashville Christian music industry to the New York jazz scene to international electronica. All of her experience channels itself into this wise, weary and wonderful set of songs.
Backed by former Miles Davis keyboardist Deron Johnson, double bassist Jon Flaugher, drummer Jimmy Paxon and producer/guitarist Chris Seefried (Andra Day, Fitz & the Tantrums, Joseph Arthur, the Kooks), she kicks off the record by taking on the inspiration for her name: Nina Simone's immortal "Blackbird," originally released during the civil rights push and, sadly, still relevant today. Given an atmospheric arrangement that subtly bolsters Blackbird's reserved performance, it's like Simone backed by Talk Talk, and a signal that she and her cohorts aren't going to lay down a typical collection of jazz ballads. Stripped down to sparse accompaniment, the bluesy "Lost and Looking," the aching "Nobody's Sweetheart" and the heart-ripping "It's Not That Easy" show a singer who knows how to drill right down to the heart of a song and make it glow.
Blackbird also shows an amazing ability to take a song one might not think would fit her aesthetic and make it completely hers. Her version of Tim Hardin's "It Will Never Happen Again" is completely of a piece with "Nobody's Sweetheart" and "It's Not That Easy," injecting soulful melancholy and jazzy vibes. She digs up the obscure Voices of East Harlem tune "Wanted Dead or Alive" and recasts it as the psychedelic soul track "Beware the Stranger." Even more startling, however, is her take on "Collage," a 1968 song from the James Gang transformed, after this incredible interpretation, into a Lady Blackbird song forevermore.
The title track closes the record, and while Blackbird herself barely makes an appearance on it, the combination of band improvisation and atmospheric production fits the hazy, insular sensations of the rest of the record so well it's as much hers as anyone's. A brilliant balance of craft and heart, Black Acid Soul is the kind of record that may not come anywhere near the brass ring, but will surely be rediscovered over and over as the years pass, and make new converts every time.