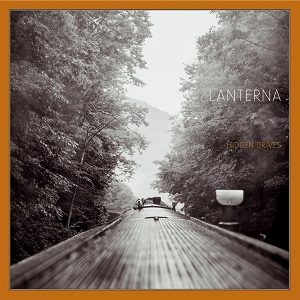 8 June 2021
Illinois guitarist Henry Frayne has been a master of shimmering, jangly, atmospheric guitar lines for decades – first with Area, then The Moon Seven Times, and currently with his longest-running project Lanterna. The seventh album from the latter, Hidden Drives finds Frayne in top-notch form, spinning dreamy, tuneful webs of six-string sorcery that recall wide vistas, sunny mountainsides, and rivers running alongside green shores.
"Chagrin Boulevard," for example, mixes lush acoustic strumming with ringing peals of electric guitar, boasting a melody strong enough that it could support lyrics, though it doesn't need them. "Cupola" adds drummer Eric Gebow for some rock drive, as Frayne makes like the Edge gone shoegaze, while "Maine 262" evokes sensual dream pop with heavily processed guitar in place of cooing vocals. The stunning "Redwoods," meanwhile, enjoys the drive Gebow's kit work gives its spiraling guitar figures, while the elegiac "Muscle Ridge" adds some languid pop melody that understands exactly how to arrive without travelling. "Nice" and the title track add a distinct folk vibe, and sound like they could be translated to solo acoustic fingerpicked pieces with little loss of vision. "Flag" simply luxuriates in the wonder of gently strummed chords through what sounds like a bank of delay pedals.
Five remixes of album tracks add little to the originals, but don't take away from them, either. Like the Durutti Column if Vini Reilly had grown up in the American midwest, Lanterna eschews technical wizardry to create majestic soundscapes of melody with well-executed simplicity.