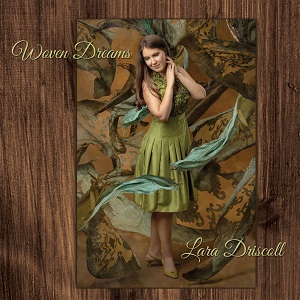 12 May 2020
Pianist Lara Driscoll reveals a magic touch on Woven Dreams, her first album as a leader. Joined by drummer Dave Laing and bassist Paul Rushka, her bandmates from her time at McGill University in Montreal, the Chicago-based composer/musician oozes musicality on the fourteen tunes captured here. "Siblings," for example, reveals a grounding in canorous hard bop, as Driscoll emphasizes the song's melody by playing circles around it, Rushka joins her in her travels, and Laing keeps the rhythm lively. She folds bluesy runs into the otherwise lilting "ECMT Blues," paying perfect tribute to the titular record label's blend of chamber and barroom, and provides sumptuous chord work on the title ballad.
Over Laing's easy swing, "Airport Limbo" finds Driscoll making blue dissonance sound like the only logical path to take, whiel she weaves tuneful discord in and out of Rushka's busy bass on "Trespassers." The trio gets especially ambitious on the three-part suite "Forgiving – Black Dog Skirts Away," an answer song of sorts to pianist Fred Hersch's depression ode "Black Dog Pays a Visit." Starting out with Vince Guaraldi-like balladry, the piece moves into an appropriately clangorous melody in part II, before evolving into a more peaceful drift through the cycle.
Driscoll displays an equally luminous touch on her covers, with an exceptionally melodious version of the much-recorded standard "Autumn in New York," an equally tuneful run through Antônio Carlos Jobim's "O Morros Não Tem Vez (Favela)," a bluesy solo take on Billy Strayhorn's "Isfahan," and a Latinized interpretation of Cole Porter's "Just One of Those Things." Perfectly adept at both originals and standards, Driscoll and her trio prove themselves ready to make melodic, mellifluous noise with ease.