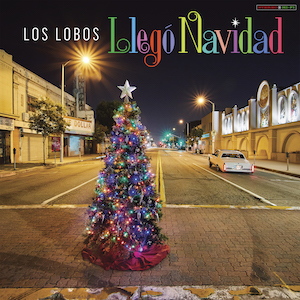 16 December 2019
Amidst the relentless assault of trite and irritating music – talking 'bout you, Mariah – that each holiday season inevitably brings, a few blessed new offerings can usually be counted on to provide respite and even memorable sounds. Last year, J.D. McPherson's Socks was a jewel amidst the dross. Now, Los Lobos has created a Christmas album for the ages.
Collecting mostly obscure songs from across North, Central and South America, plus one beautiful original, the charming Llegó Navidad spotlights the acoustic string band incarnation of this durable L.A. quintet, which has played everything from trippy psychedelia to tender soul to blazing roots-rock over the course of a stellar four-decade-plus career. Highlights include Freddy Fender's jaunty Tex-Mex raveup "It's Christmas Time in Texas," the funky, salsafied "La Murga" and the brand-new classic "Christmas and You," a gentle ballad from group members David Hidalgo and Louie Perez.
Llegó Navidad has the essential ingredients of any great Los Lobos record, namely, rousing vocals, freewheeling, expert musicianship, including Steve Berlin's sultry sax, and songs that feel timeless. Although the guys have thoughtfully placed "Feliz Navidad," the most familiar tune, at the end, making it easier to skip, their frisky rendition is so engaging that you'll hear this shopworn standard with fresh ears.
Best of all, Llegó Navidad will sound great any time of the year. Give it a spin next summer and see!