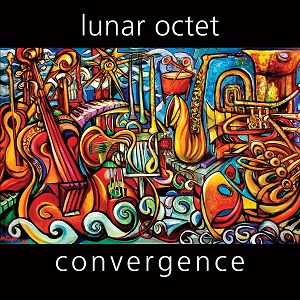 17 June 2021
Just in case you thought obscure but influential rock bands were the only ones who waited decades between releases, the Lunar Octet returns with Convergence, its first album in twenty-six years. Though a fixture at home, the band never really caught on outside of its Detroit/Ann Arbor base, and on the evidence of Convergence, it's a puzzle as to why.
The songs (by saxophonists/clarinetists Steve Hiltner and Paul Vorhagen and percussionist Aron Kaufman) serve up memorable hard bop melodies over infectious rhythms, while the group's interest in Latin and African music gives every cut buoyant grooves that make the songs danceable without being anything so crass as crossover. The woodwind players and trumpeter Brandon Cooper tend to lead the songs off with the main riffs, often played in harmony, as guitarist Sam Clark and pianist Keaton Royer provide counter melodies and Kaufman, bassist Jeff Dalton, drummer Jon Krosnick and auxiliary percussionist Olman Piedra keep the tempos moving.
Hiltner's "Toote Sweet" sets a good example, with a hip-swaying pulse, ear-catching melodies and expertly performed improvisations. Kaufman's "Dancin' in the Doghouse" (co-composed with Dan Ladzinsky) turns up the funk for an even more irresistible jammer, while Hiltner's "Samba Diabolico" inverts its titular rhythm into a dense but delightful mass of catchy cadences. Kaufman's "Heart of Congatar" dives into the deep end of the Afrobeat pool, while "Olduvai Gorge," written by ex-member David Mason, indulges in some finger-snapping Latin jazz rock fusion.
If there's one caveat, it's that, at nearly eighty minutes, Convergence feels overlong. Then again, the musicians probably had a surfeit of material built up in twenty-six years, and most of it's so good you can't blame them for wanting to include all of it.