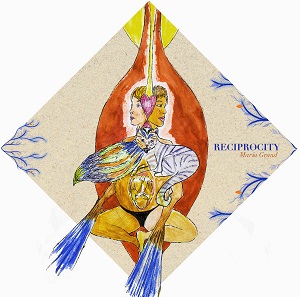 1 June 2021
Saxophonist Maria Grand has been studying and working with a who's who of great jazz artists since moving to New York from her native Switzerland: Billy Harper, Steve Coleman,Vijay Iyer, Craig Taborn and MacArthur fellow Mary Halvorson's Code Girl, for starters. For her third album Reciprocity, she sticks to collaborating with her regular backing musicians Kanoa Mendehnall (bass) and Savannah Harris (drums). Taking inspiration from the arrival of her son – indeed, recording and touring while she was pregnant – Grand uses her spiritual jazz influences to develop a powerful statement on creation itself.
Opening track "Creation: The Joy of Being," part of a multi-part suite, evokes another classic of spiritual yearning in a jazz context – John Coltrane's A Love Supreme. But that's only the beginning. "Whabri" and "Creation: Ladder of Swords" – another part of the suite – follow a more exploratory tack, with Grand's tenor weaving around and through the rhythm section's busy wanderings. "Creation: Matrescence" slows down and settles in for some soulful balladry. "Creation: Superbear," "Now, Take, Your, Day" and "Fundamental Pt. II" jump into the post-bop end of the pool, with sharp playing, intricate arrangements and, on "N, T, Y, D," some vocal harmonies for spice.
Those aren't the only songs to utilize larynxes as well as instruments. The loose "Prayer" lets Harris and Mendenhall improvise while Grand sings a swooping melody of spiritual yearning; "Creation: Interlude" adds a strong groove to the same setup, with the leader eschewing words for pure vocal feeling. The trio also cover Venezuelan singer Jesús Hidalgo's lovely "Canto Manta," with Grand once again singing instead of playing, and make the song their own.
Grand ends the record with "Creation: Welcome, Starseed," a wide-ranging composition that incorporates free jazz and spoken word into a statement welcoming the creative forces in her life: her son and her muse. It caps off an album that's more than just a collection of songs. It's a journey of genuine vision by an artist willing to dig deep into her own soul in order to produce a true work of art.