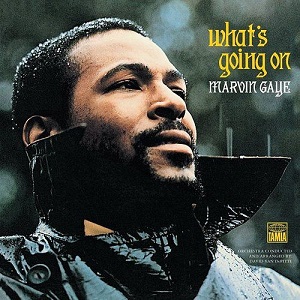 15 April 2022
Marvin Gaye's What's Going On is pretty much unassailable. The first Gaye LP to have the artist himself in charge of its vision, the album has been a perennial item on critical Top 10 of All Time lists for decades, no matter the outlet or genre prejudice of the listmaker, and for good reason: it's not only brilliant, but that brilliance has held up for many years. Fifty years, to be exact. Originally released in 1971, it's now getting a fiftieth anniversary vinyl reissue (admittedly some months late) to celebrate its half a century of greatness.
Like a lot of classic albums from the past, especially from the Motown hit factory, What's Going On is dominated by its singles. "Inner City Blues (Make Me Wanna Holler)" and "Mercy Mercy Me (The Ecology)" ride indelible grooves and beautiful melodies that keep those songs on the radio to this day. The title track itself remains an absolute classic: brilliantly arranged and conducted by Gaye's studio partner David Van DePitte, sung perfectly, and powered by one of the most beloved tunes this side of a Beatles song. Interestingly, the idea for "What's Going On" originated with Four Tops singer Obie Benson, who took inspiration after watching police officers unnecessarily harassing some kids in San Francisco. Once the basic idea of the song got to Gaye, the singer not only made it his own, but allowed it to guide him down an artistic path that resulted in a masterpiece.
But to concentrate only on the hits is unfair to the rest of the record. The immediate successors of "What's Going On," "What's Happening Brother" and "Flyin' High (In the Friendly Sky)" alter its melody just enough to be different, but remain close enough to make the three tracks practically a suite. The furrowed brow of Gaye's delivery and lyrics in "Right On" gets across due to its Latin jazz-influenced arrangement and brooding melody. "Save the Children" comes off as nearly cheesy at first, but it doesn't take long for the way Gaye's overdubbed call-and-response with himself, his spoken lyrics followed by his swooping, impossibly soulfully sung repeats, to cast an unbreakable spell. Almost naive in their pleading for peace and love, "God is Love" and "Wholy Holy" break the morbid mood cast by the social commentary, reminding us that all is not lost. The way Depitte's strings and Gaye's vocal overdubs tie all the songs together, particularly on side one, really entrench the notion that this is an album, meant to be heard in order (as it was apparently recorded) and in its entirety. It's almost one long song, and it's impossible to imagine anyone putting this record on and taking it off before it's finished.
Much of the social commentary sounds simplistic today – while it addresses an important topic with a welcome bluntness, "Mercy Mercy Me" doesn't offer any solutions. But in the case of that song – indeed, the entire album – it's truly the thought that counts. That Gaye was even talking openly about drug addiction on "Flyin' High (In the Friendly Sky)" or the trouble Vietnam veterans (like his own brother) faced coming home in "What's Happening Brother" meant a lot, and still does now. It says a lot about American society that so many of the topics covered here are still relevant today. Substitute heroin and cocaine for opioids and "Flyin' High" could've been written five years ago. Ditto "Inner City Blues," the absolute congruity of which in 2022 is as depressing as the melody is uplifting.
Keeping the original album alive in the era of vinyl collector hipsterism is a good enough reason for a fiftieth anniversary reissue. But this edition also includes a second record full of goodies. Side four includes mono single mixes of several of the album's tracks, including a version of "What's Going On" minus its "party" intro and with a fake fadeout, a stripped down take on "God is Love" that's arguably superior to the album version, and "Sad Tomorrows," an early version of "Flyin' High." But side three is the real treasure here. It kicks off a "stripped version" of the title track, mixed in 2021 by Kevin Reeves, who removed several instruments and essentially reduced the track to vocals, congas, vibes and a keyboard. It sounds like a pointless exercise, given the perfection of the original, but it serves to highlight Gaye's genius as a singer. That's followed by a yin/yang activity – first a version of the song minus strings and horns, letting the rhythm section speak more frankly and the message come across more starkly, and then an all-lush version without vocals that highlights what a magnificently structured piece of music it is. The side ends with "Symphony," a song originally written for obscure Motowners and Gaye production clients the Fantastic Four, before being reclaimed by its composer and producer, who improvised lyrics and essentially turned this track into "What's Going On" part 2, though with a more romantic focus.
Even though there are examples going back decades, particularly in the blues, R&B/soul recordings weren't known for sociopolitical thought – especially at Motown, where the goal was to avoid anything with a whiff of controversy so as to appeal to as many people as possible. But What's Going On – not only daring in its subject matter but nearly perfect in its craft and moving in its emotive soul – shattered those company-imposed barriers, not only making it safe for Motown and soul artists to speak their minds about any topic concerning them, but for those artists to wrest control from the factory nature of the label's record-making and determine their own artistic direction. Groundbreaking, continually relevant and just plain wonderful to listen to at any time or age, What's Going On is deservedly an iconic staple of twentieth century music.