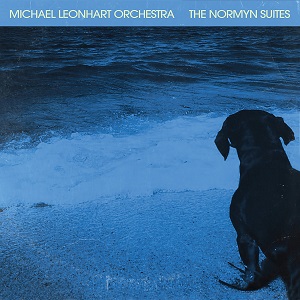 21 April 2022
The loss of a loved one affects all of us in profound ways. Not to imply that the sudden absence of a member of our human family is any less traumatic, but there's something acutely painful about the loss of a pet. This is a creature with whom you form a mutually beneficial relationship, that depends on you for caretaking and affection, needs unconditional love as much as s/he needs food and water, and we take pleasure in providing it until it becomes as necessary to us as to the animal. So when a pet dies, even if it's after a long life well lived, it really hits us. It makes us wonder if there was something we could have done to save her, even knowing that the answer to that question is likely no. It feels like a failure as much as a loss.
We can't say for sure how multi-instrumentalist, composer and bandleader Michael Leonhardt felt when his fifteen-year-old dachshund Normyn passed away. But on his latest album The Normyn Suites, he's trying to tell us. The record revolves around a pair of suites inspired by Normyn's death. The first one provides, as the subtitle tells us, "the soundtrack to the five stages of grieving," an ambitious project regardless of real life inspiration. Joined by his regular bandmates on horns, strings, rhythm and choir, and special guest guitarist Bill Frisell, Leonhardt starts off at faster tempos to work through "Denial" and "Anger," before settling into more reflective territory through "Catharsis" and "Nostalgia," and finding a mid-tempo point between grief and forward motion in "Acceptance." With melodic consistency and tight arrangements, the ride isn't as rollicking as one might expect, and instead unrolls like an expertly painted canvas.
Subtitled "Love & Loss," Suite #2 centers on the last days of Nornyn's life, swapping the universal outreach of #1 for a personal examination and celebration of Leonhardt's beloved dog. Ranging across many genres through the medium of both his orchestra, guests Frisell and keyboardist Larry Goldings, and his own one-man-band prowess, Leonhardt unfolds his own emotions for everyone to hear on "Waking From Sedation," "Freedom From the Pain" and "Unconditional Love." He saves his most direct statement (on trumpet) for "The Dunes of Cahoon Hollow," which must be either a favorite spot for Normyn, where Leonhardt spread his friend's ashes, or both. Expressing everything from pain to relief to the joy of having had such a life entwined with his, it's wonderful and heartbreaking all at once.
Leonhard offsets the emotional heaviness of the Suites with some lighter tracks, including the pop rocking Elvis Costello collaborations "Shut Him Down," featuring saxophone titans Joshua Redman and Chris Potter and rapper JSWISS, and "Newspaper Pane," with Frisell, plus the quirky spoken word track "Radio is Everything" with Costello, Frisell and guitarist Nels Cline. Leonhardt rounds out the record with a pair of nifty quartet performances in tribute to "Kenny Dorham" and "Wayne Shorter," two key inspirations, that feature modern sax god Donny McCaslin. While not directly related to the pieces about Normyn, each song still salutes the power of music to move us, and that's ultimately the message conveyed on The Normyn Suites.