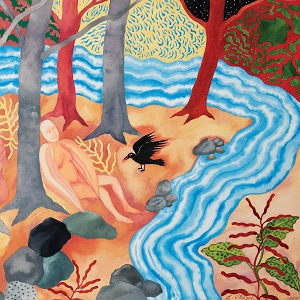 29 April 2022
Everyone handled the pandemic differently, especially as it applied to their livelihoods. Many jazz musicians, who usually depend on in-person interplay, found ways to keep playing together to make new music. Guitarist Miles Okazaki, however, embraced distance collaboration with Thisness, his third album with his Trickster Quartet. Literally singing ideas into a recorder, he sent them to bandmates Anthony Tidd (bass), Sean Rickman (drums) and Matt Mitchell (keyboards, and a prolific Pi Recordings artist in his own right) for overdubs. Faced with only the loosest of structures, the musicians used their improvisatory skills and deep understanding of their partnership to create songs that ebb and flow like water over the ocean bed, seemingly shifting at random, but in reality following an internal logic.
Take the second track, the ten-minute "Years in Space." Tidd and Rickman pull a funk groove inside out, but keep up a steady pace, mirroring the disorienting but consistent atmosphere of space. Okazaki on both acoustic and wah-wah guitars and Mitchell on piano play different but complementary melodies that sound like they're bouncing off something at the edges – perhaps the dark matter that astrophysicists still haven't been able to properly define or detect? Around the halfway mark, the tempo cuts itself in half and the music shifts from playful assertiveness to a sort of oscillating tension, as the guitar joins the rhythm section in repetition and the piano races up and down itself like it's cracking at the seams. The title becomes appropriate, as the song reflects the mental state of someone still in the midst of a long space voyage, moving from the excitement of new experiences to the resignation of boredom to the quiet insanity from staring out into the void for too long. Each player may sound like they're performing off the cuff, but this cut makes clear that there are definite directions to follow.
"In Some Far Off Place" also shapeshifts in a logical manner, starting off as a warm ballad before building up to a more roiling piece with an unusual time signature that keeps the counter melodies played by Okazaki (overdubbing himself into a six-string web) and Mitchell from ever quite resolving. "And Build a World" begins with an especially groovy Tidd bassline and Rickman going for a funky backbeat, but the guitarist and keyboardist splash free jazz lines across the rhythm section's bow to prevent the construction of the titular macrocosm from proceeding too smoothly. Starting out as the most overtly jazzy tune, "I'll Wait For You" features Okazaki interweaving bluesy lines like Grant Green and Wes Montgomery dancing together over a drum-and-bass shuffle, with Tidd and Rickman eventually getting a share of the spotlight themselves. But then Okazaki suddenly remembers his effects pedals and Mitchell adds unexpected synth flourishes, and the tune ends up as a tasty slice of psychedelic postbop.
No doubt Okazaki and the Tricksters yearn for the days when they can be playing all in one room again, if they haven't gotten there already. But the brilliant Thisness opens a new door for these musicians, one that allows the spirit of spontaneous interplay to move through the music even as each player works in solitude.