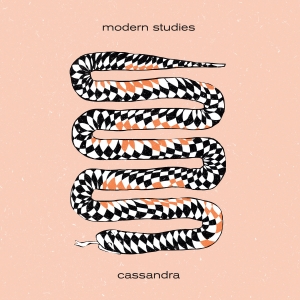 17 December 2022
For many reasons I'm now wired to be partial to Scottish bands, and this goes back 40 years. Admittedly I've kept mostly to punk, post-punk, new wave, and indie rock bands through the years, so it's always a pleasure to discover bands residing in UK's northern third, particularly when their sound is a deviation from my norm.
Modern Studies, a band I literally just discovered today, perfectly fit this bill. The four-piece with origins in Perthshire, Scotland, describes their music as a unification of "pastoral chamber pop and folk with a subtly experimental spirit."
The line-up:
Often hushed and folky, their first LP, "Swell to Great" (Song, By Toad, 2016) was well received, making MOJO's Top 20 and the long-list of the Scottish Album of the Year (SAY) awards. The next year the album was reissued by Fire Records, garnering wider attention. I was happy to see "Father Is a Craftsman" found its way onto Jack's weekly Big Takeover Show in 2017.
Sophomore effort, "Welcome Strangers", (Fire, 2018) featured some up-tempo moments ("Get Back Down", "Horns and Trumpets") that add liveliness to the record, which also achieved much critical praise. True to their genre-crossing music, Modern Studies would go on to play Glastonbury, Celtic Connections, and many other festivals.
Since then, the band has released "The Weight of the Sun" (Fire, 2020) and "We Are There" (Fire, 2022). Both albums more prominently feature percussion, resulting in stronger arrangements with bigger dynamic opportunities. Outstanding tracks like "Photograph" and "Light a Fire" especially achieve some of the rarified air of bands like The Go-Betweens.
With four LPs now under their belt, the new 8-track EP "Cassandra" continues in this creatively rich channel adding jazz flourishes that are also present in their past catalog.
The EP's title refers to Cassandra of Greek Mythology, who accurately foretold of prophecies, especially grim apocalyptic disasters, only to find that others didn't believe her. However, the band says the EP doesn't try to stick too closely to the myth, instead nabbing elements as creative touchpoints as they wrote and recorded the album. Their bandcamp page elaborates:
"We worked parallel to the myth, drew out some tiny truths for ourselves, and used aspects of it to spark ideas and unconventional musical techniques over four days in a barn."
The resulting EP balances thoughtful planning (particularly lyrically and thematically) and spirited live improvisation. As the band further notes, it covers a lot of ground, conceptually.
"Lyrics are minimal and drawn from the myth as it relates to today's world, and are chiefly born of conversations the band had during the making process on a variety of hefty topics, such as truthtelling, the weight of a gift, a double-cross, male gaze, trust, classical art, expectations vs reality, depictions of violence, lying to oneself, revenge, mental health and the afterworld."
Taking all this in, it's no surprise that Modern Studies are tough to nail down, genre-wise. This is precisely why the music works so well. The collaboration has resulted in smart, sometimes off-kilter arrangements that stem from all of the above considerations and spontaneity too. Furthermore, Emily notably disdains the typical pop song structure that repeats choruses.
Diving into the EP, one might expect a proggy dirge or inaccessible high-brow performance art. This is far from the case. The peppy indie rock-infused drum and basslines on lead track "Tiny Tongues" work well alongside Emily's vocals that occasionally harmonize with Rob and Joe. The net effect is familiar yet fresh. Here, Emily's voice is fleetingly reminiscent of Siouxsie Sioux but when the harmonies come in, you're whisked gently back into the folk territory they know so well.
The final minute of the song slows with Rob's harmonium hypnotically cycling until the fragments all break down. We take only a breath or two before the next song, "Sweet One", seamlessly emerges for two instrumental minutes of a spooky film soundtrack interlude.
The EP's track sequencing is well considered, as track three "Yeah, You See Her" takes off next. This song perhaps most clearly encapsulates all the pervading influences and styles that Modern Studies so keenly employs.
"Geese" briefly makes me think of Jenny Lewis as Emily sings here, albeit with vastly different accompanying music. The inspiration here stems from the recording locale and time of year which provided "a passing point of rest for thousands of migrating geese."
The EP closes with "Love You, Bye". True to form, Modern Studies delivers the unexpected. Instead of a clearly laid out song with lyrics that might sum up the EP or Cassandra's mythological influence, we're left with a beautiful, mournful instrumental piece that allows the listener to take from it what they want or need.
Links