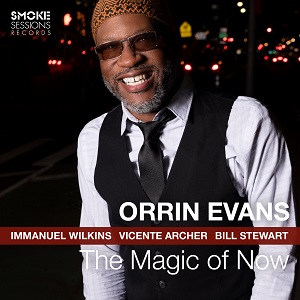 22 July 2021
Pianist Orrin Evans is one of those well-respected players who toil quietly but brilliantly in the background, releasing acclaimed but modestly popular records as a leader and being a much-loved sideperson. A lot of jazz fans heard his name for the first time when he joined The Bad Plus as replacement for co-founder Ethan Iverson – an association Evans just ended so he could devote his time to his own projects. If he had The Magic of Now in the offing, it's no wonder he quit.
Joined by veterans Vicente Archer on bass and Bill Stewart on drums, as well as highly acclaimed newcomer Immanuel Wilkins on sax, Evans sharpens his focus as both player and bandleader. Though clearly versed in the greats, from McCoy Tyner to Bud Powell, Evans seems to have a taste for the boundary-pushers, letting a little dissonance and clatter into his soloing a la Andrew Hill or Don Pullen. As such, he often lets the more overtly tuneful Wilkins lead the head, as on his hard-swinging "MAT-Matts" or the dynamic medley of Stewart's "Mynah" and Mulgrew Miller's "Eleventh Hour," before heading off into the wilds with his keyboard. The saxist takes some inspiration from his boss, however, on his frisky post bopper "Levels," whipping his horn around the dreamy melody as the rhythm section churns behind him, and matching Evans toe-for-fingertip on his hard bopping "Momma Loves." Horn and piano also square off on "Libra," an ultra-melodic Wilkins piece that belies the fire that drives it. Evans firmly takes the lead on his own "The Poor Fisherman" and "Dave," demonstrating his mastery of the art of the ballad.
Besides his piano, Evans wields the band as his instruments, knowing when to keep them in support and when to let them loose – thus the record firmly re-establishes his place as a bandleader. To the title's point, The Magic of Now shows us how much magic is left in the traditional jazz quartet formation, at least in the hands of talent like Evans.