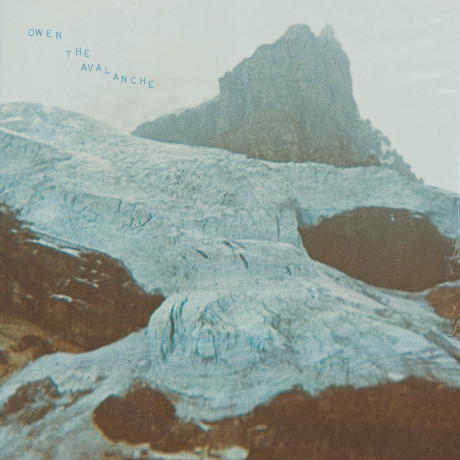 19 June 2020
After the members of Cap'n Jazz and their tangential ventures spent much of the '90s and early aughts carving out a niche for what now is considered emo music, none of those players—wincing at the nominal aside—leaned harder into their feelings than Mike Kinsella. Others have distanced themselves from the nostalgia, opting for avant-garde and electronic-based arrangements, unrecognizable when compared to their previous outfits. Kinsella's strum today rings just as prettily as it does on "The One with the Tambourine" from American Football's debut EP, although his latest offering is not with said acclaimed reunited emo heroes. He returns now with The Avalanche credited to Owen, his longstanding solo vessel.
A common observation of the two LPs American Football has released since the start of their second life is that they resemble Owen records in principle: pastoral, twinkly, and wrought with self-reflective lyrics that veer more personally than they did in 1999. LP2's winking conciliation to a lover ("I get to choose your lingerie") "Desire Gets in the Way" or LP3's address to Kinsella's inner demons "Uncomfortably Numb" lyrically resemble creative spillover from Owen rather than that rollicking, universal angst they captured so perfectly in their initial run. But it takes one listen to The Avalanche, Owen's first LP since American Football's reformation, to remember what distinguishes his solo work from the rest.
Sean Carey's production proves a winning partnership for their second full-length in a row. The restrained plucks of an upright bass, the thump of a kick drum; every piece resonates so close and warm in the mix, making for a just headspace for songs this vulnerable. This is the closest Kinsella's come to bearing country markings, denoted by the frequent use of pedal steel guitar on tracks like "The Contours" and "I Go, Ego"—the kind likened to Sturgill Simpson over present day Wilco. It surprisingly suits the output from this stage in his career. "Mom and Dead" takes a page from LP3 by pairing another well-matched female vocalist to soaring results, treating us to KC Dalager of Now, Now in this instance. All sonic elements are as touching and crisp as the mood is woefully intimate. Looking back, 2001's self-titled debut is preoccupied in a different way. The instrumentation, often giving into his mathematical roots, is as tangled and hung up as the young adult that performed it. Owen's past few efforts feature songs that come together as culminations of thoughts, swells of reconciliation. Kinsella pleads for his loved ones and listeners to meet him on his level at this point, but while he may put on airs that he's too weak to ramble, the backing still rambles on for him.
Whatever guitar tunings Kinsella uses, the rest of the world wants in on them. Since the beginning, his fingerpicking has been his trademark. A cozy, intricate emblem of seeming effortlessness. Never arbitrary, but second nature all the same. Although mostly bare, it reaches a groovy magnitude in the second act of "Dead for Days", trading half-steps in tandem with bass and punctuating each rapid bar with precisely picked harmonics. The song delves deeper than "Uncomfortably Numb" would ever dare. He drew a line there only to now recount the specter of his father's negative—and much to Kinsella's dismay—genetic impact.
Kinsella's social presence has become somewhat of a dark horse of humorously beleaguered accounts to follow. An obsession with Lars Ulrich, absolute disdain for Greta Van Fleet, and a litany of "I'm getting old" posts flood his Twitter and Instagram feeds. It's good for laughs, but especially so for fans that only know him from the contrasting musical side. The Avalanche identifies the sensitive second-guesser that remains alive and (un)well underneath the sarcastic veneer of social media. That humor still seeps through, most immediately noticeable in the opening lines of "I Should've Known": "Well I can't have my cake and fuck it too / Okay I won't make another goddamn joke, I know, how rude."
"I've got a reputation of fucking up to uphold," he maligns in "On with the Show", giving birth to one of his more acerbic and profound self-pities. More and more these days, Kinsella asks for salvation. He's at an age where his bad habits and vices are understood and he hopes to mitigate the opportunities that allow for them to take wing. Opener "A New Muse" finds him in conversation with the "dear lord," a relationship he's grappled with for years, possibly having learned to accept faith on "I Believe" from 2011's Ghost Town. Having the impression that he's genuinely beholden to others' misgivings about him is a bummer. The notion that artists have to suffer for their art is a myth, but the notion that everyday people do battle with the devil inside is a true blue fact.
Ruben Östlund's Force Majeure depicts a family's ski vacation that goes awry after the father abandons his wife and children by fleeing in the face of what falsely appears to be an avalanche fast approaching the lodge; a decision that lands him in the marital doghouse. In this scenario, I have no doubt that not only would Kinsella brace himself for the snowy hazard, but he would shield his family from impact both to save them and, in his mind, spare them of his occasional bullshit should he meet his end from the incident. Like Östlund's parable, The Avalanche explores the doubt one can harbor as a father and husband set to a pure and endlessly beauteous void.
You may purchase the record here. This weekend, 100% of the proceeds made from Owen's Bandcamp page go to the NAACP Legal Defense Fund.