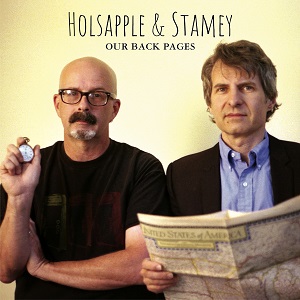 13 July 2021
In which our intrepid co-leaders of the dB's revisit their back catalog in more stripped-down and intimate takes than the louder versions on record by the band. Originally recorded in 2008 during the making of the duo's second album hERE and nOW, Our Back Pages presents the songs almost like folk music, suitable for jamming with your buddies on the front porch at twilight.
Holsapple's "Today Could Be the Day" (originally from 1988's The Sound of Music) leans into its country flavoring, with prominent fiddle and friendly two-part harmonies. Contrast that with the baroque take on Repercussion's Stamey gem "From a Window to a Screen," with its lush harmonies, gentle banjo and George Harrison-like guitar solo. Holsapple's "Big Brown Eyes," originally from Repercussion, really sounds like an old folk song, while Holsapple's "Picture Sleeve" – from the group's 2011 reunion single – brings the pair's love of the Everly Brothers to the fore. Meanwhile, Stamey's "She's Not Worried" floats on a gorgeous but difficult reharmonization that makes it come off like a string quartet.
It would be easy to say that's how it goes on the record, much like it did in the original recordings, with Holsapple staying on the straight and narrow, and Stamey folding in the quirks, but it's not quite true. The latter's "Happenstance" – from Repercussion is as straightforward as anything by his partner, while Holsapple's "Nothing is Wrong" (again, from Repercussion) gets a very Stameyesque chamber pop rearrangement, even with electric guitars as the main instrumental voice. "Darby Hall," a Holsapple song from Like This, the first Stamey-less dB's record, matches any of Stamey's tunes for pure loveliness.
Holsapple's "Black and White," from the debut LP Stands For Decibels, is one of the only "hits" (inasmuch as the band ever had any) that appears, in a dandy acoustic rock breakdown. The record also includes "Depth of Field," a lovely Stamey tune that never made it onto a dB's record (it did appear on Stamey's solo LP It's a Wonderful Life), though it would be difficult to imagine a band version being better than this. Still praying to the altar of pop, Holsapple and Stamey use their time on Our Back Pages to prove that their songs deserve their shrine, even when recast as down home.