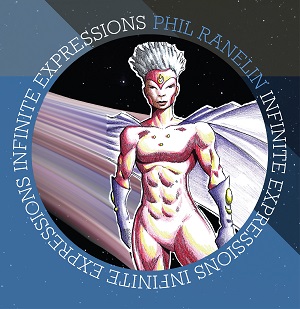 17 December 2021
Trombonist Phil Ranelin isn't a name that springs to the lips when talking about classic horn players, despite a career going back to the early seventies, playing with everyone from Freddie Hubbard to Wayne Kramer, and leading several bands, the most famous of which is the long-running Tribe. But, like most jazz musicians, the Detroit-based 'boner doesn't need fame to keep making great music, as proven by his latest album Infinite Expressions. Joined by drummer Andre Beasley, guitarist Hideaki Tokunaga, percussionist Carlos Niño and two alternating bassists, Michael Alvidrez and Ian Martin, Ranelin confidently walks a middle path between expansive post bop and exploratory free jazz.
Beasley, Niño and the bassists keep the rhythms roiling on "In the Time Being," "Spirit of Dolphy" and the title track, setting up a foundation for the leader to lay down edgy melodies and sizzling solos. Tokunaga, meanwhile, fills in the blanks with spidery lines reminiscent of Liberty Ellman's work with Henry Threadgill – it sometimes sounds like he's playing a different song than his bandmates, but the removal of his bits would change the essence of the songs. Hinting at chaos without toppling into it, the musicians gnaw and tear at the parameters they've set for themselves on "In Time With the Times," wandering around the landscape and turning up every rock they find to see what's there.
Having said that, Ranelin is just as happy to fall into a more traditional bag. As the record comes to a close, he returns to the blues for the swinging "Blues For Paula," the expressive solo "Weaver of Dreams" and the brief epistle "One More Blues." The kind of versatility he shows on Infinite Expressions not only backs up the title, but tells us why Ranelin has had such a lengthy and productive career, even if it's been away from the spotlight.