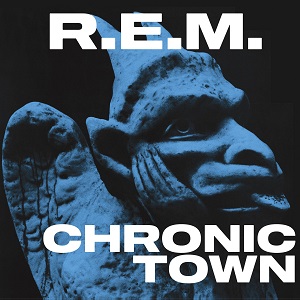 19 August 2022
It seems impossibly odd now, but Chronic Town, the debut E.P. by international rock superstars R.E.M. has never been on CD. Oh sure, some of its songs have appeared on comps and best-ofs, and the record itself has been re-released in duplicates of its original vinyl incarnation. But this fortieth anniversary edition is the first time Chronic Town has appeared en toto on shiny compact disk. Go figure.
For anyone approaching these songs for the first time, or the first time in more years than we might care to admit, the most striking thing is how assured the band sounds. Producer/engineer Mitch Easter notes in the extensive report in the booklet that singer Michael Stipe, guitarist Peter Buck, bassist Mike Mills and drummer Bill Berry did their growing up in public, carefully and deliberately learning the craft of writing songs even as they hit stage after stage. Hell, the musicians might well argue that future recordings – 1983's debut full-length Murmur, perhaps, or maybe popular breakthrough Document from 1987 – is where they really learned to author music in a significant way.
Poppycock. Right from the opening cut, the remarkable "Wolves, Lower," R.E.M. sounds like a band fully formed. Of course, they sounded that way in 1981, too, when they released their debut single "Radio Free Europe," an indelible classic that would stay with them for their entire career. But on Chronic Town the band sounds completely comfortable in the studio, confidently making use of their environs (Drive-In) and proprietor (Easter) to enhance these five songs like they had exact visions in their heads as to what they wanted to accomplish. They didn't, of course; as Easter admits, production-wise all five of these guys were making shit up as they went along. But listening to the audio ephemera scattered throughout the cleverly arranged "Carnival of Sorts (Boxcars)," an early concert favorite, or the subtle sonic enhancements on the chugging "1,000,000," or the simple sparkle of the imminently catchy "Gardening At Night" (a song that, if forced to at gunpoint, your current author might name as his all-time favorite), it's easy to hear how this self-described folk rock band from Athens, Georgia insinuated itself into the music scene immediately, even if its success still lay ahead.
At first blush, the jangly, messy "Stumble" seems more like a repeat of ideas already expressed in the rest of the songs, and while they may well be true, multiple listens firmly set it right alongside the others in this self-contained firmament. Simply put, this five-song statement makes the same argument for greatness that many longer, more fully fleshed out debut albums by then-more famous bands did. So you'd be forgiven for listening to Chronic Town forty years on and think it's genius, because, well, it is.