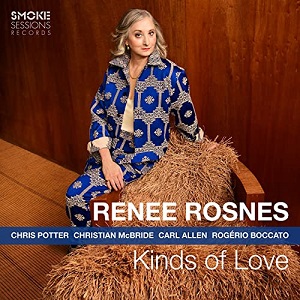 21 September 2021
A celebrated pianist with a three-decade resumé that includes stints with legends Billy Drummond, Nils-Henning Ørsted Pedersen, Ron Carter, Wayne Shorter, Joe Henderson and J.J. Johnson, Renee Rosnes found a new level of notoriety as part of supergroup Artemis, who released a much-acclaimed debut LP last year on Blue Note. But the Saskatchewan native is at her best when she and her keyboard are up front, leading a band of excellent musicians in showcasing her own compositions. Her nineteenth record, Kinds of Love puts Rosnes at the head of an ensemble that includes current saxophone colossus Chris Potter, supreme bassist/educator Christian McBride, and a double rhythm team of Carl Allen on drums and Rogério Boccato on percussion.
The quintet comes out guns a-blazin' immediately with "Silk," a rollicking, melody-rich cut driven by Rosnes' pounding piano – imagine Little Richard as a virtuoso jazz player – and Potter's free-bopping sax. It's one of those tunes you'd play someone while trying to explain jazz to them. Classically-inclined pianistics and soaring flute collide with foot-shuffling Latin grooves on "Life Does Not Wait (A Vida Não Espera)," and everybody has a grand old time. Rosnes switches to electric piano for the zesty "In Time With Air," a tricky tune that pulls delicious tension out of its push and pull. "Passing Jupiter," "Swoop" and "The Golden Triangle" fall easily into a hard bop bag, then rip holes in it. "Evermore" and the title track reveal a mastery of the ballad form that rivals Rosnes' dexterity with anything fast and furious.
Somewhere between a ballad and something more mysterious and magical, "Blessings in a Year in Exile" closes the album on a hopeful note, one that implies the way creativity flows during periods of lockdown. It says a lot about Rosnes that she can take the hard times of the past eighteen months and turn them into the musical beauty all over Kinds of Love.