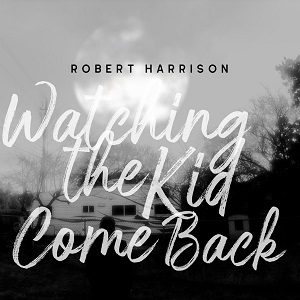 30 July 2021
Singer/songwriter Robert Harrison leads the great Austin guitar pop band Cotton Mather, as well as the more overtly psychedelic Future Clouds & Radar. After plying his trade for three-odd decades, Watching the Kid Come Back is, shockingly, his first solo album. Though he's known, thanks to the classic Cotton Mather album Kontiki, for nearly rococo arrangements that pile on whatever instrument or effect best serves the song, Kid takes a different approach.
Accompanied by Mather compatriots Whit Williams and Darin Murphy, Austin roots rock vets Brad Fordham and Gary Newcomb, and guest singers BettySoo and Suzanne Choffel, Harrison lets each song stand, if not naked, then at least in its underwear, eschewing cleverness for direct expression. "Cool Water Blue Rain," for example, puts the Harrison spin on country music, with a lilting, strummy melody and an emotional forthrightness that befits a lyric like "Hold me up good daughter, dear son/Here comes the rain." The sparse "Sitting in the Sun" sounds like it came straight off the back porch and into the studio, side-stepping ornamentation. The opening "A Face in the Crowd" sets its heartbroken libretto to a catchy melody, indulging in some old-fashioned power pop, while "Great Auk Stories" goes folk rock with a tasteful, tuneful arrangement and some soulful singing on Harrison's part. The title track is quite simply one of Harrison's loveliest ballads, though it's nearly equalled by his lush cover of Diana Ross & the Supremes" "Someday We'll Be Together."
Rather than fill nooks and crannies with ear candy, Harrison lets the songs breathe, the air around each lick and vocal framing the tunes as much as backwards guitars and tape splices did in the Kontiki days. By stripping back the arrangements to straightforward instrumentation, Harrison reminds us of just how damn good a songwriter he truly is.