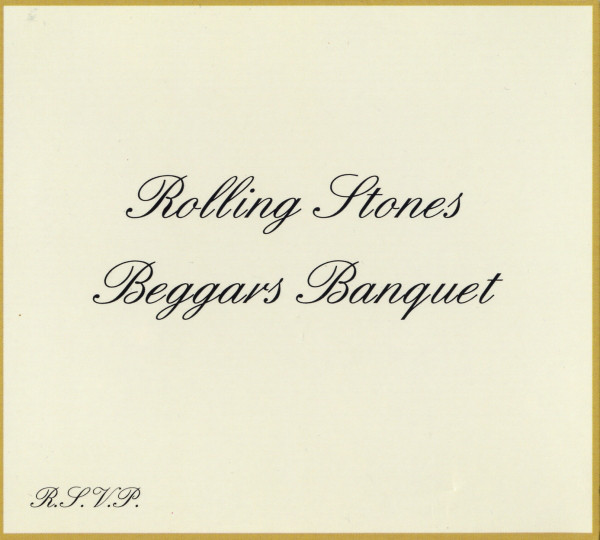 22 December 2018
The Stones' 1968 release Beggars Banquet is a rarely-disputed classic and the final complete album from the quintet's original lineup including Brian Jones. The album finds the band refocused following the psychedelic wandering of 1967's Their Satanic Majesties Request, and on LP features two sides led by the group's sharpest forays into social protest. "Sympathy for the Devil" launches side one with Mick Jagger's feral vocal and sly characterization as the unholy source of the world's unrest, conflict and hardship. Keith Richards' brash acoustic guitar (recorded on portable cassette) propels the restless "Street Fighting Man" at the top of side two. The song is elevated by session man Nicky Hopkins' sparkling piano and is given period-appropriate decoration by Jones' sitar and tamboura.
The Glimmer Twins duet on the cheeky country waltz "Dear Doctor," collectively posing as a jilted but ultimately relieved lover abandoned on his wedding day. Bill Wyman's loping bass spars with Jones' acoustic and Richards' slide guitar on the Dylanesque "Jig-Saw Puzzle." Charlie Watts' simple but urgent backbeat focuses the Delta blues homage "Prodigal Son" and drives the unnervingly lurid rocker "Stray Cat Blues." Following the Appalachian folk-styled "Factory Girl," Beggars Banquet closes with "Salt of the Earth." The latter song is a tip of the hat to working-class fans featuring Jagger and Richards' blended voices, joined during its coda by a fervent Gospel chorus and Hopkins' rowdy piano.
The set's second platter features the original mono mix of "Sympathy for the Devil" in high-fidelity 45RPM occupying a full side of 12" heavyweight vinyl. The reissue's gatefold packaging features Barry Feinstein's now-familiar and much-disputed bathroom-graffiti artwork that delayed the album's original release as the band clashed with label executives, tastefully hidden inside the sanitized wedding-invitation graphics of a wraparound slipcover.
Also included is a flexi-disc recording of a 1968 telephone interview by Mick Jagger for London Records' Japanese distributor. The young Jagger is cagey with details about new titles and songs, but the singer answers questions about contemporary work by so-called rivals The Beatles and describes the creation of the Stones' new album as "absolute lunacy."