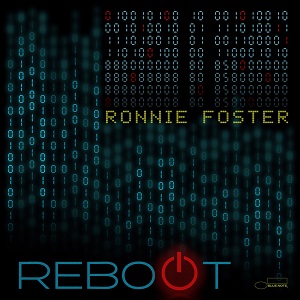 22 July 2022
Organist Ronnie Foster recorded a series of beloved soul jazz/funk albums for Blue Note and Columbia throughout the seventies, including his classic debut Two Headed Freap, from which comes "Mystic Brew," famously sampled by A Tribe Called Quest in "Electric Relaxation." By the mid-eighties, though, Foster went silent, at least as a leader. He continued to record as a sideman, play gigs and work as a producer. Thirty-six years on from his last LP, Foster, re-signed to Blue Note, issues his (very) long awaited ninth album Reboot.
Organ trio jazz has a distinctive flavor – warm, bluesy, greasy, inclined to danceable rhythm. Joined by guitarist Michael O'Neill and either Jimmy Branly or scion Chris on drums, Foster proves himself an absolute master of the style. Check out the soulful title track, which features Foster's expert comping under O'Neill's tasteful soloing, Stevie Wonder's "Isn't She Lovely," which the trio turns into a shuffle without losing the hooks, or the appropriately titled "Swingin'," which would likely fill a dance floor while grooveheads marvel at the back and forth between Foster and O'Neill. On "J's Dream," Foster gives his bandmates a short vacation for a solo track that's every bit as funky as his trio work.
But there's more to Foster's vision than just establishing himself in the traditions of Jimmy or Lonnie Smith. The organist also brings in percussionists Luis Conte and Lenny Castro to add a Latin jazz element, and it's a natural fit. "Sultry Song II" (a reboot, as the album title indicates, of a song he contributed to a Nestor Torres album thirty-odd years ago) and "After Chicago" explore the easygoing side of Latin jazz, emphasizing melody over groove, while "Carlos" brings the rhythmic fire, not to mention burning guitar work both in the electric and flamenco realms. Foster rounds off this survey of his creativity with "Hey Good Lookin' Woman," a straightforward blues tune, and "After Conversation With Nadia," a gorgeous solo piano piece.
After almost four decades out of the pilot's seat, Foster picks up as if no time has passed. A spin through the magnificent Reboot makes his absence as a leader, frankly, mystifying, as it's another classic album.