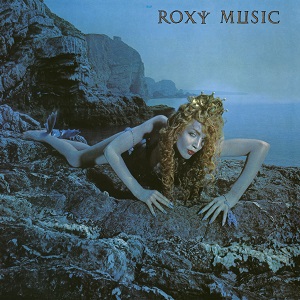 10 June 2022
Four albums in, Roxy Music was about to enter its most commercially successful phase – but with a twist. Siren, the band's fifth album contains the British band's biggest American hit, but also closed the book on Roxy for a few years. Manifesto began a new chapter, but with a streamlined, slicker sound and the beginnings of chart dominance in its native U.K.
Released in 1975, Siren further focuses the band's proto-new wave attack, bespeaking a certain slickness without losing the band's extraordinary charm. The album kicks off, of course, with "Love is the Drug," a #2 hit in England and the group's only top 20 hit in America. Catchy, danceable and another example of leader Bryan Ferry's continuing parody of hip seventies lounge lizards, the song sticks in the ear the way a good pop tune should – even if its lyrics are so blunt a lot of folks missed the irony. While that's the most instantly accessible track on the disk, it's hardly the only one with melodic appeal. "She Sells" rollicks smoothly through McCartneyesque piano pop on its way to some hipshaking acid funk. The gorgeous piano ballad "End of the Line" seemingly drops poses for an open-hearted declaration, though by this point it's become difficult to tell when Ferry's being serious. Though possibly hinting at a certain creative fatigue in its title, "Both Ends Burning" keeps the band's mantra rock alive and well. Meanwhile, "Whirlwind" and "Nightingale" reach back to the early days of the band's angular glam rock, while "Sentimental Fool" stands as yet another of Roxy's classic epic ballads. The only bummers are "Could It Happen to Me" and "Just Another High," both of which sound great while playing but don't stick long in the memory. At this point, the group had evolved to the point where it could make Roxy Music with ease, and if there's less sense of unpredictability, it's been replaced by a craftspersonship that could come from no one else.
Roxy Music then went on hiatus, releasing a live album and a greatest hits set, while Ferry and guitarist Phil Manzanera continued their solo careers. In 1979, the combo returned to action with Manifesto, a transitional album inaugurating a new facet of Roxy's career as it evolves from art to entertainment. Reduced to a quartet of Ferry, Manzanera, woodwinds master Andy MacKay and drummer Paul Thompson (who didn't finish the album), the group surrounds itself with session musicians to make a slicker, more streamlined version of what the band has always done. Less given to eccentricity than even Siren, the record emphasizes danceable rhythms and catchy melodies as never before, though Ferry's lyrics seem to have left satire behind. Manzanera's axe is more prominent in the mix than it was on Siren, though he sounds like he's holding back – maybe he was saving his best work for his solo albums. MacKay as well makes himself heard more than on the last record, but feels more like a substitute for the absent Eddie Jobson's keyboards than the exotic flavoring agent he'd been before. Cuts like "My Little Girl," "Cry Cry Cry" and "Ain't That So" sound tailored for club play more than recorded immortality. But even if Roxy is starting to sound more like the Bryan Ferry Band, there's a lot to enjoy here: the melodic groove of "Still Falls the Rain," the prescient dance pop of "Dance Away," the atmospheric wisp of "Spin Me Round," the tough rock of "Angel Eyes" and "Trash." Ear candy, to be sure, but superior ear candy. This reissue restores the original, more guitar-oriented take of "Angel Eyes," a top 10 hit in the U.K. in a remix that emphasized the electronic sounds that were beginning to take hold of the British charts.
Both of these albums have garnered ire from old school Roxy fans expecting more singular experiences, and for anyone whose mind was blown by groundbreakers like Roxy Music, that's understandable. But the band is just so good at what it does that even if they're less concerned with innovation than ingenuity, they make it difficult to truly hate these records, even the smoothly slick Manifesto. They're simply too effortlessly enjoyable.