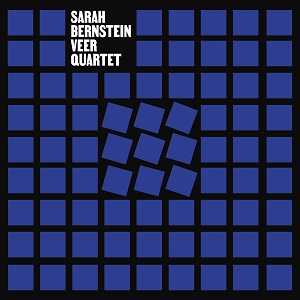 1 September 2022
Though she's a first call violinist and composer and leads a typical string quartet lineup on VEER Quartet, don't assume Sarah Bernstein is a classical musician. Or, more precisely, that she's only a classical musician, as her experience has taken her from classical to jazz to experimental noise to synth pop. On this record she leans more towards her formally trained roots, but even then, this is hardly your father's Bach.
Joined by co-violinist
Saga Nagano
(herself an adventurous genre-crossing musician), violist
Leonor Falcon
and cellist
Nick Jozwiak
, Bernstein kicks off
VEER

Quartert
with "Frame No. 1," a rollicking piece that dances around and across several rhythmic and melodic lines. Sometimes sounding like outtakes of the
Fantasia
soundtrack, others like the Kronos Quartet after a particularly volatile burrito, the song rarely sits still long enough for easy identification. Bernstein focuses more precisely on the shorter tracks, including the luminous "News Cycle Progression" and the brooding "Hidden." But she really shows off her compositional and arranging chops on the extended pieces. "Nightmorning" cleverly conflates rounds and drone, with sweeping, swirling string riffs and a relentless aura of deliberate menace. More accessible but still challenging, "Clay Myth" is a stunning tour-de-force, an epic carefully arranged to maximize its melodies, while leaving room for swathes of free improvisation.
Pulling from multiple traditions, Bernstein's music stays a moving target, playfully defying any attempt to pin it down in one exhibit case. That gives VEER Quartet dozens of layers to peel back, and new things to discover and delight in every time you do.