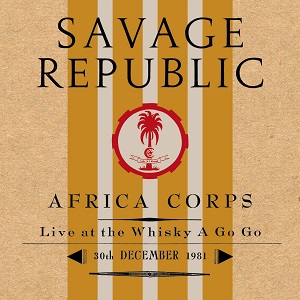 18 November 2022
Guitarist Bruce Licher continues rolling out the reissues on his re-galvanized Independent Project Records label with the release of archival material from his much beloved band Savage Republic. As indicated by the title, Africa Corps Live at the Whisky A Go Go is technically a set by Africa Corps, though that was simply Republic's original name. Recorded in 1981, the set features the young quartet bashing their way through songs that ended up on their now-classic 1982 debut album Tragic Figures. While the band's combination of industrial music and post-punk via tribal percussion pound and shiny guitar skronk sounds like a common influence today, it's easy to hear how songs like "Real Men," "Mobilization" and "When All Else Fails" would've blown minds and shattered eardrums back in the day. (The pissed-off shouting may also unnerve fans more used to Licher's atmospheric instrumental work in Scenic.) Plus it takes true dedication and craftsmanship to be as tight and well-rehearsed as Savage Republic does here, while still sounding like the whole thing might come crashing down at any moment. Originally recorded on cassette, but given a life-enhancing remaster by Warren Defever of His Name is Alive, the set serves not only as a reminder to fans of how on point Savage Republic was in its earliest days, but could also be a fine entry point for newcomers.
Originally released as a limited edition CD-r in 2006, Exploratorium is an entirely different creature. Recorded solo by Licher, the eponymous project eschews percussion and discordance entirely for a journey through ambient sound. Opening track "Peak" lays it all out with nearly ten minutes of electronically-dusted guitar swells that move forward just propulsively enough to gain momentum. "Going Home" turns the rhythm knob from "gentle walk" to "float on nothingness," while "The Penstemon Field" adds some distorted minor chords and a creepy atmosphere, like a John Carpenter soundtrack with six strings instead of synthesizers. Those make their appearance on bonus track "Number 09," a near-thirty minute symphony of mechanical noise, repetitive sequencers and throbbing synth burbles that's either pleasantly unsettling or endurance defying, depending on where you hang with avant-garde electronics. Even if you decide to skip that track (conveniently located at the end), there are still three beautifully conceived cuts to earn multiple spins.
As always with IDR, the packaging for both albums is beautiful, with cool graphics and postcards carrying the liner notes. But the real meat of these releases comes from the contrast of Licher's vision at different points in his life, from the brain-itching noise of Savage Republic to the lush mystery of Exploratorium. Get them both to enjoy both sides of the dream.