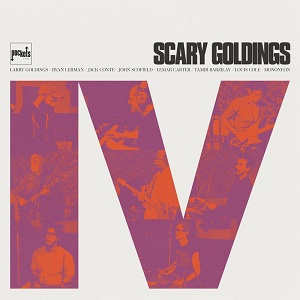 23 December 2021
A collaboration between freefloating funk ensemble Scary Pockets (anchored by guitarist Ryan Lerman and keyboardist Jack Conte) and keyboardist Larry Goldings (who's played with everyone from Jack DeJohnette to James Taylor), Scary Goldings lays the groove down hard. For IV, the combo's fourth collaboration in four years, the trio assembles a jazz/funk dream team, including drummers Louis Cole, Tamir Barzilay and Lemar Carter, bass ace MonoNeon and jazz guitar god John Scofield.
That combination of talents means both serious improvisational chops and significant booty shake. Check out the single "Professor Vicarious," on which Lerman and Scofield interlock into a web of funky guitars, Goldings knocks out a chaotic synth solo on top of his Hammond riffs, and the rhythm section simply kicks. Recalling their chemistry in the project band Trio Beyond, Scofield and Goldings dominate "Meter's Running" – unsurprisingly, given the bluesy feel – while MonoNeon and the keyboardists take "Hi Ho Silverstein" into outer space. "Disco Pills" grabs everyone by the sheet music and drags them to the dance floor.
The band gives everyone a chance to breathe on "Pony Up," which emphasizes soulful melody rather than pumping up beats 2 and 4, and the more laidback (but still grooving) "Cornish Hen." But for the most part the emphasis is on the kind of funk that makes one's body jiggle uncontrollably, frosted by expert musicians having a good time. IV surrenders to the groove, and anyone with ears and hips will likely do the same.