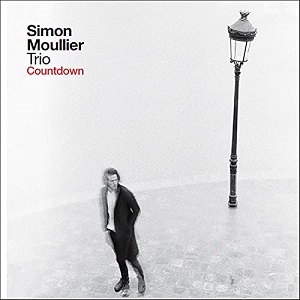 14 June 2021
The vibraphone is a difficult instrument on which to wax lyrical – with a percussion instrument it's fairly impossible to bend notes, or create the same kind of sustain as a singer or saxophonist. But damned if Simon Moullier doesn't give it the ol' college try. (In the French native's case, those colleges are Berklee College of Music and the Thelonious Monk Institute of Jazz.) Along with his bandmates Luca Alemanno (bass) and Jongkuk Kim (drums), Moullier takes on a program of standards on his second LP Countdown.
His focus here is on the song, rather than virtuoso displays – not that there aren't a few of those. There has to be, given that the Trio starts the program with John Coltrane's challenging titular tune, on which any player has to be at their best. The band also goes into ripper mode on Nat King Cole's "Nature Boy" (also covered by Coltrane), which leaves no room for slacking. Alemanno raises eyebrows here with a stunning solo, proving himself his boss's melodic foil as much as his rhythm keeper. Tadd Dameron's "Hot House" zooms along at a fast clip, with the leader translating bebop horn lines to his vibes and Kim blazing away on his kit. Jerome Kern's "The Song is You" and Cole Porter's "I Concentrate On You" keep up the frisky business, but Moullier enjoys the sheer swing of both pieces too much to shove his technique up anyone's nose. Slowing things down, the vibist displays an especially beautiful touch on Charles Mingus' indelible Lester Young elegy "Goodbye Pork Pie Hat," which gives Alemmano another chance to step up.
The trio shows a particular affinity for Thelonious Monk on two of his tunes – "Work" and "Ask Me Now." Makes sense, as Monk's idiosyncratic, percussive piano style transliterates well to the vibraphone. But Moullier doesn't simply copy Monk – he injects his own sense of melody in the work, determined to find the middle ground between percussion pluck and singing horn. (It's no coincidence that most of the inspirations he cites in the one-sheet are sax and trumpet players.) Honestly, it doesn't matter if Moullier succeeds in his specific aim or not – his tuneful approach makes him a standout in young jazz players no matter what instrument they wield.